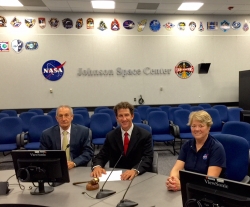 Pembroke Pines, FL, December 06, 2017 --(
PR.com
)-- Rejuvel Int'l, Inc., a NASA* Technology Transfer Partner and a wholly owned subsidiary of Rejuvel Bio-Sciences (OTC PINK: NUUU), creators of REJUVEL 3D Anti-Aging products has expanded their NASA agreements.
After a recent meeting at the Johnson Space Center in Houston, Joseph Pavlik, Rejuvel's new CEO stated, "Expanding on our existing exclusive license with NASA adds a new dimension to the company and serves as a catalyst for our newly named subsidiary, Better Life Wellness Brands, Inc., which has been refocused to capitalize on my 20 years of expertise in the nutraceutical and performance nutrition field. We are very pleased and encouraged with the confidence that NASA shows in us by expanding these agreements and we're proud to be a NASA Technology Transfer Partner."
To introduce its Better Life Wellness Brands subsidiary and new product concepts that will use its exclusively licensed patented NASA technology, Rejuvel's CEO attended the following 2017 tradeshows and events to meet with distributors:
- Natural Products Expo West - Anaheim, CA
- Europa Super Show - Dallas, TX
- Mr. Olympia Expo - Las Vegas, NV
Other Developments:
- Rejuvel also announced that they are aware of a company that recently started promoting itself using branding similar in sound and appearance to Rejuvel and it's REJUVEL 3D product line. Rejuvel assures its shareholders and all interested parties that it remains the only company in the world to hold an exclusive license with NASA to use NASA patented technology for the manufacture of plant and mammalian cell based topical skin and hair care products and with the support of NASA will defend its rights against any and all companies that make damaging, false claims which create confusion in the marketplace.
- Rejuvel also assures its shareholders and all interested parties that it continues its effort to again become fully reporting.
The Company will update their shareholders and the public on past and future developments through regular press releases.
*Licensed from the National Aeronautics and Space Administration and Administrators of the Tulane Educational Fund under U.S. Patent Nos. 6,730,498 and 6,485,963 B1 and 6,673,597 B2.
Notice Regarding Forward-Looking Statements
Safe Harbor Statement under the Private Securities Litigation Reform Act of 1995: This news release contains forward-looking information within the meaning of Section 27A of the Securities Act of 1933, as amended, and Section 21E of the Securities Exchange Act of 1934, as amended, including statements that include the words "believes," "expects," "anticipates" or similar expressions. Such forward-looking statements involve known and unknown risks, uncertainties and other factors that may cause the actual results, performance or achievements of the Company to differ materially from those expressed or implied by such forward-looking statements. In addition, description of anyone's past success, either financial or strategic, is no guarantee of success. This news release speaks as of the date first set forth above and the Company assumes no responsibility to update the information included herein for events occurring after the date hereof.