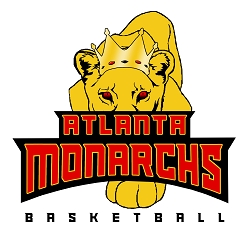 Atlanta, GA, December 06, 2017 --(
PR.com
)-- Yesterday, Playmakers Basketball Royalties held a Press Conference in which they officially announced the formation of the new Women's Blue Chip Basketball League (WBCBL) team, the Atlanta Monarchs.
The Press Conference also involved introducing the Atlanta Monarchs Coach and those players currently signed to the team. Former WNBA Atlanta Dream Head Coach and General Manager, Marynell Meadors, was announced as the Coach of the Atlanta Monarchs. Ex-WNBA player, Latoya Bond was announced as the Franchise Player. Tanae Davis-Cain (ex-WNBA player), Taylor Turnbow (former LSU Standout and FIBA Player), Courtney Hurt (ex-WNBA, FIBA Player), and Alysha Harvin (FIBA Player) were also announced as having signed to the team.
"After speaking with Latoya Bond for just a few minutes, Marynell Meadors sparked something in her she had lost for a while," said Tamika Milburn, CEO of Playmakers Basketball Royalties and Team Owner of the Atlanta Monarchs, on signing Marynell Meadors.
Playmakers Basketball Royalties (PBR) is a community-based organization that provides Competitive Playing Opportunities and Career Advancement Opportunities to Professional Basketball Players. It is home to 2 Professional Basketball Teams: the Atlanta Monarchs Women's Blue Chip Basketball Team, and coming in March 2018, the ATL Pharaohs American Basketball Association Men's Basketball Team.
Playmakers Basktball Royalties Executive Board:
CEO: Disabled Veteran Tamika Milburn - Founder of Atlanta's Young Misses, Inc and Owner of Playmakers International.
COO: D. Bryant - CEO of LUX Atlanta, LUX London and Founder of KamerFest.
CFO: Veteran Jewell Carter - CEO of S & A Business Consulting.
CMO: Kimberly Raven - CEO of BodyFlow Inc Massage Therapy and Capitol City Legacy Builders Toastmasters Vice President of Public Relations.