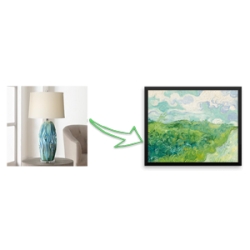 Sunnyvale, CA, December 07, 2017 --(
PR.com
)-- CanvasPaints introduces a new website where a customer can upload a photo of their interior decor and the CanvasPaints site will use a proprietary color matching system to automatically find artwork images that match the colors of the space.
CanvasPaints has a fantastic collection of curated artwork images designed to satisfy all tastes.
The CanvasPaints site appeals to interior designers, home stagers, and anyone looking to add a beautiful artwork image to their decor. The process is incredibly fast and easy.
Once an artwork image has been selected, CanvasPaints can have it printed on gallery wrapped canvas, a framed poster or a poster print on archival, acid-free paper and delivered to the customer's doorstep. Products are available in sizes from 8x10 up to 24x36.
In the past, finding artwork to coordinate with the interior decor was a time consuming and error prone process. CanvasPaints takes the pain out of the process and makes it easy to find that perfect image to blend seamlessly with the decor.
As an introductory offer, CanvasPaints is offering 25% off all products through December 31, 2017.
https://www.canvaspaints.com