New York Long Island Tree Service Brings a Redefined Experience to Garden, Flowers and Trees Unlike Any Other Company
New York Long Island Tree service is an established company that is well known in the area for removing dangerous trees after strong winds and storms. They also provide their clients with amazing lawn care and trees to provide the maintenance needed for the best look possible.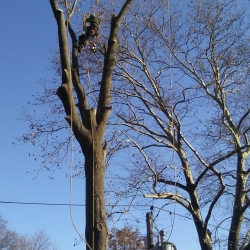 New York, NY, December 07, 2017 --(
PR.com
)-- "We are professionals that are specialised in landscaping. Our team has the experience and knowledge and are always willing to offer you reliable services. Our services are pocket friendly and at very affordable prices to help you maintain and enhance the value of your property," said a New York Long Island Tree service representative.
New York Long Island Tree service has been in the industry for over 20 years and has worked with people throughout Long Island, NY serving both Nassau and Suffolk Counties. They recently created a new division that specializes in landscaping; working in residential properties to enhance the beauty of one's home, improving gardens, and specializing in flowers, plants, etc.
They are a full tree service company providing services ranging from tree
trimming, pruning
and removal services. Stump grinding, property clean-ups and storm damage clean-ups are also included in their service list. They are available 24 hours a day 7 days a week to help clients with all their emergency tree service needs.
They also provide services to commercial properties; some of their landscaping services includes analysis from tree experts, residential lawn tree care,
emergency tree removal service
, lawn restoration, landscape services, land clearing, garden designs, transplanting, and tree relocation, among others. These are only a few of the landscaping services New York Long Island Tree service offers.
At the Tree Service New York and Landscaping Division, their primary aim is to keep their customers satisfied with their landscaping services. These experts are experienced and ready to work in any residential or commercial property. They are willing to give their client's lawn the desired and needed care and maintenance, which includes helping their clients with any landscaping design they wish to have done.
"There are many things that can lead to needing tree removal services. When there are strong storms in an area, there may be a need for tree cleanup. Your full range New York Tree service company is readily available when you need tree removal in New York. Our expert team is ready to provide a fast response to your emergency tree situation," said Michael, New York Long Island Tree service representative.
Their professionals work in any area of Long Island, NY and serve any area of Suffolk and Nassau County. They help people with their landscaping design, creating new ideas for their gardens and lawns and any other project that the owner wishes to have done on their residential or commercial property. They also give solutions to how to trim a diseased tree.
For more detailed information about tree removal in Long Island, please visit www.findlocaltreeservice.com
Media Contact: Michael
Phone: 516-4767249
Contact
New York Long Island Tree Service
Michael Randazo
516-476-7249
www.findlocaltreeservice.com

Contact