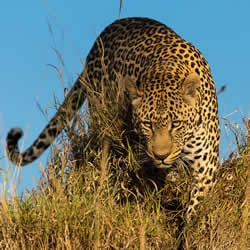 Nairobi, Kenya, December 13, 2017 --(
PR.com
)-- It's never too early to book the great wildebeest migration safari vacation. And Hallmark Travel Planners, of Nairobi Kenya, is ready for you. This tour operator recently released departure dates and affordable safari rates applicable from July 2018 through to October 2018.
This particular
wildebeest migration safari 2018
is based on group travel with each group not exceeding 18 persons and each safari jeep with a maximum of 6 guests, ensuring each guest has a window seat for optimal game viewing. Prices from US$3890.
The 12-day migration safari follows the wildebeest migration route focusing on the 2 parks of Serengeti and Masai Mara. However, the package also offers the guests the rare opportunity of taking a night game drive on one of the 2 nights spent at Amboseli National park.
There is also a chance to see the tree-climbing lions of Lake Manyara National park and a full day Ngorongoro Crater Tour, before venturing to the Serengeti and Masai Mara reserves.
Michelle Williams from Australia, one of the guests who booked migration safari in 2017 had this to say: "Hallmark answered emails promptly and helped ease any banking glitches."
Michelle, who took the trip with her partner in August 2017 says: "Right from being picked up at the airport in Nairobi until we were returned there at safari's end we were more than happy with the experience. Our driver guides were very good and went out of their way to show us their animals. Food and accommodation in the safari camps was of a very high order".
Hallmark Travel Planners also offers personalized wildebeest migration safaris, as well as ready-made wildebeest migration safaris, like the one published here. While on the migration safaris, whether private or group tour, you will enjoy full-day trips down into the reserve to observe this migration spectacle while carrying a packed lunch from your safari lodge or camp so that you can enjoy a full-on wildlife experience.
The wildebeest are constantly moving in both directions across the river. There are some days, however, when crossings do not happen, but the constant hum of wildlife in all directions, as far as the ear can hear, will keep the day filled with great sightings and new experiences.
Most safari lodges in the Serengeti and Masai Mara are over-booked during this period of the migration and securing any accommodation space if you are trying to make a booking at the last minute, can be extremely difficult.
Guests can book online following the link above, or by calling 0.800.051.4252 – UK, or 1.888.885.4580 - USA & Canada, or +254 795 891 706, Kenya.