Des Moines, Iowa Handyman Becomes "Handy Guy & Son," a Family Business
Handy Guy, a professional handyman service based out of Des Moines, IA, announced today the apprecticeship of his son Jonah Olson at, http://www.handymandesmoines.com. Jonah has received the DMACC/NACEP Silver Certificate Award for earning 11 or more college credits in Building Trades experience through Central Academy in Des Moines. Jeremy Olson, Owner, with over 35 years of handyman experience, has augmented his operations to include his millennial son, to bring Handy Guy well into the future.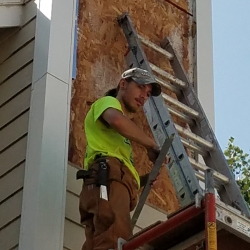 Des Moines, IA, December 15, 2017 --(
PR.com
)-- Handy Guy, a professional handyman company serving Des Moines, Iowa and surrounding communities, is pleased to announce the apprenticeship of his gifted millennial son Jonah Olson, at
http://www.handymandesmoines.com
. A resource for Des Moines area residents needing extra help with carpentry, plumbing or remodeling projects, Handy Guy offers a variety of handyman services and help for do-it-yourselfers.
With over 35 years of experience to draw from, Handy Guy delivers professional handyman services at affordable prices - and with a gentleman's ethic - every time. Putting honesty and dependability in front of profit is Handy Guy's business model, and they work hard to ensure that every new customer becomes a repeat customer. Now Handy Guy "& Son," that integrity and value is being endowed onto Jeremy's son Jonah Olson, 19.
Unlike the handyman franchises that are becoming increasingly common throughout the country, Handy Guy is a locally owned and independent business. Being independent allows Handy Guy to offer his best skills, best quality and best customer service directly to their customers without the middleman. When dealing with the Handy Guy you're dealing with the owner, not some subordinate. Handy Guy has great ratings on Google and Angie's List! Now that torch is poised to be passed on to the owner's son through direct practice with the original Handy Guy.
With over 3,000 satisfied customers in their book, Handy Guy (& Son) offers a wide variety of household repair and remodeling services, including carpentry, drywall, tile installation, interior and exterior painting, plumbing, electrical work, basement finishing, bathroom and kitchen remodeling, and more. Son Jonah has shown exceptional deft in the building trades and his father brags about his son's obvious knack for the craft. Jeremy said about his son, "He thinks like me, I've always said I could use another me." Based in Des Moines, these services are offered to all surrounding communities, including Altoona, Ankeny, Johnston, Clive, Norwalk, Waukee, West Des Moines and Urbandale.
Handyman services aren't all that Handy Guy offers the Des Moines, Iowa area. Jeremy & Jonah enjoy the advantage of an ally in the office; Jennifer Olson, (Jeremy's wife and mother of Jonah) brings decades of professional business acumen, office management, cost prediction and home improvement savvy to her communications role in the business. When contacting Handy Guy you will delightfully almost always talk directly to that capable business manager, Jennifer Olson.
Reach her at handyguydesmoines@gmail.com OR 515-326-4596 to get expert support before, during and after the project.
Handy Guy, the Des Moines, Iowa choice for handyman services, is owned by Jeremy Olson. A professional handyman with over 35 years of experience, Olson is a licensed & insured contractor, and prides himself on honesty and dependability. Visit http://handymandesmoines.com today to learn more. Handy Guy is a State Certified Lead Safe Renovator.
Contact
Handy Guy
Jeremy Olson
515-326-4596
handymandesmoines.com

Contact