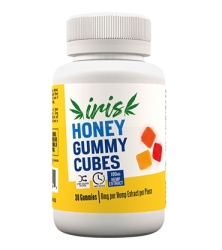 Los Angeles, CA, December 21, 2017 --(
PR.com
)-- Iris Gummies, a California based manufacturer of confectioneries and supplements, introduces brand new gummies that are 100% sweetened with natural honey. These gummies do not contain any other sweeteners besides honey. They come with 3 different strengths and 2 different shapes.
There are two options available at 90mg and 180mg per bottle with small gummy cubes offering 3mg and 6mg hemp extracts. The company also rolled out its original gummy bears. They come two in a package with 60mg hemp extract each bear, making the total package at 120mg.
All Iris
CBD gummies
are formulated to release a steady stream of CBD into person's system over a certain period of time, releasing the active ingredient slowly until it reaches the small intestine and becoming fully activated. With Iris Gummies' proprietary formula the company is able to infuse gummies while in the making as well as coat them through the surface thereby feeling the CBD effect almost instantaneously. The advantage of infused gummies gives a long lasting effect and full bioavailability making CBD fully absorbed by the body so one may receive its full benefits.
Full-spectrum hemp oil refers to when the pure oil extracted from hemp contains all the same cannabinoids and compounds found in the original hemp plant. Unlike isolated or synthetic cannabinoids, full-spectrum hemp oil contains an array of cannabinoids, as well as many essential vitamins and minerals, fatty acids, protein, chlorophyll, fiber, flavonoids, and terpenes.
Full-spectrum hemp oil contains dozens of cannabinoids. The most abundant cannabinoid found in hemp oil is cannabidiol (CBD), a non-psychoactive compound shown to have many benefits in studies.
Honey contains a treasure chest of hidden nutritional and medicinal value for centuries. Honey's scientific super powers contribute to its vastly touted health benefits for the whole body. The healthy natural sweetener offers many nutritional benefits depending on its variety. wfv Honey's anti-inflammatory effects and ability to soothe coughs has led to the belief it can also reduce seasonal allergy symptoms. The sweet nectar is loaded in antioxidants that may help prevent cellular damage and loss within the brain. Honey can be the all-natural cure when it comes to pesky colds. It suppresses coughs and can act as sleep aid.
Iris Gummies started back in 2010 making CBD gummies from scratch, where most companies were spraying CBD on Gummies. It's not that much different today! What would be the point for customers to take a CBD supplement filled with sugar and GMO'S? That's exactly why Iris stands out from its competitors by making superior products. It is known that the right food and the right supplement can offer energy and keeps people healthy. Iris offers products with full spectrum CBD oil, Natural and Organic ingredients a combination of both real food and exceptional supplements. No isolates used in any of IRIS CBD Products.
To find out more about Iris Gummies, visit https://irisgummies.com or call (800) 714-8670.