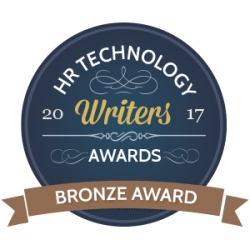 Atlanta, GA, December 27, 2017 --(
PR.com
)--
PeopleStrategy®
, a provider of Cloud-based Human Capital Management (HCM) solutions for the mid-market, was recently awarded the Bronze Award in the Best Vendor Blog category at the HR Tech Writers' Awards 2017. The awards recognize top writing talent across the HR Tech industry from all types of publications, with categories for both vendor and independent blogs, and for individual writers. The final results were decided by a combination of recommendations from the judges and a public vote.
"PeopleStrategy has an excellent blog which covers a broad range of HR topics. I was particularly struck by the good mix of content including articles about both technology and general HR topics," said awards judge and HRMS World Editor, Kathryn Beeson. "Scoring well in the public vote, it's clear that the PeopleStrategy blog and their well-written articles are particularly popular. I'd like to extend my congratulations to PeopleStrategy for their success in the highly competitive Best Vendor Blog category!"
About the Awards
The HR Tech Writers' Awards were launched in 2015 by HRMS World to recognize top writing talent across the HR industry. We're excited - as ever - to recognize the brightest and best of this year's HR tech writing talent. Run every year, the HR Tech Writers' Awards recognize the brightest, most switched on bloggers, writers and journalists working in the HR industry, with prizes available in Best Vendor Blog, Best Independent Blog, Best Writer and Best Article categories.
About HRMS World
HRMS World s an online publication which caters to professionals across the HR technology industry. It provides product and industry news, whitepapers, comparison tools and how-to guides for professionals looking for advice on selecting, implementing and running HRMS.
About PeopleStrategy
PeopleStrategy provides a single source for today's employers to build an effective and competitive human capital management program through a strategic combination of HCM technology, employee benefits and managed services. Our Cloud-based eHCM® Suite empowers the entire organization through intuitive self-service tools and mobile access to help all employees manage their professional life as easily as they do their personal life – anytime and anywhere. The synergy of PeopleStrategy's technology and services enables clients to streamline employee lifecycle management (ELM) so they can focus on their people and their strategy. Learn more: call 855.488.4100 or visit peoplestrategy.com.