LED 360 Degree Tube Sign Light
Introducing the 360 degree LED tube primarily used in the sign industry. Available in 4 foot, 6 foot, and 8 foot version in HO/R17D or Bipin/G13 ends. Designed with an internal driver eliminating all ballasts. Easy solution for a complicated problem.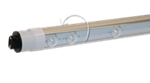 Los Angeles, CA, December 24, 2017 --(
PR.com
)-- LGI Technology proudly announces the launch of the new 360 degree LED tubes primarily used in signs.
This new line is the latest additions to the Los Angeles-based, LED manufacturer's line up.
Retrofitting a sign box is very challenging, most of the time retrofitters or sign manufacturers must use 2 LED tubes one on each side because LED tubes only project a 180 degree beam spread. This product will cut time and material cost by half. Internal driver is part of the design and will work with 120 to 277V AC powered from one side eliminating the need for a ballast. It is also designed to fit HO/R17D or Bipin/G13 sockets with a simple conversion, just remove the HO conversion plugs and you have Bipin G13 end.
"We work very hard to innovate and introduce unique solutions, we feel this product offers a much needed solution to sign manufacturers and retrofitters," product manager Rob Setian said. "We are very pleased with the outcome."
Available in Bright Daylight 5700K, 4 foot, 6 foot, and 8 foot versions. ETL certified for safety.
This product is currently in stock and ships from their California warehouse.
More details and product data sheet are available at www.lgitek.com/
For more information on where to purchase the products or to become a distributor, please contact LGI Technology at: info@lgitek.com or (877) 221-8182.
Follow them on Instagram #lgitek
Contact
LGI Technology
Robert Setian
(877) 221-8182
www.lgitek.com

Contact