Custom Design the Engagement Ring of Her Dreams; Engager Rings Has Everything You Need to Get the Perfect Engagement Ring
Engager connects customers with a professional independent jeweller to design and create the personal engagement ring design of your dreams. The Engager app puts the jeweller's studio in the palm of your hand. Your smartphone becomes a window for real-time collaboration – from that first conversation describing your vision of your custom engagement ring through each stage of the production process. You'll see your ring take shape right before your eyes.

Toronto, Canada, January 05, 2018 --(
PR.com
)--
Engager Rings
has been selected to appear in an upcoming episode of DRAGONS' DEN, airing Thursday Jan. 18th, at 8:00 PM (8:30 NT) on CBC Television.
Engager Rings began 2 years ago out of a desire to expand a jewellery shop beyond the Niagara Region. Engager was created as a means to connect clients to a more sentimental and fully custom design process that is unique for every client and fill the need of a growing custom and individualized market - rather than choose a cookie cutter ring that everyone else has. Engager has since connected with clients in the midwestern and southern United States, Western Canada, and jewellers all over North America.
"I am grateful for all the support I've received in my hometown and I'd love to talk to you about my experience pitching on the show. Please feel free to contact me at hello@engager-rings.com to set up an interview or learn more about Engager Rings in advance of my appearance."
- Nick Coutu, Owner of Engager Rings
Launching a business is no small task. No matter how big an idea you think you have, it still takes a lot of work and a ton of cash. Enter DRAGONS' DEN, where aspiring entrepreneurs pitch their business concepts and products to a panel of Canadian business moguls who have the cash and the know-how to make it happen. They've all been there themselves, so pitchers better not enter the Den unprepared. It takes more than passion to convince these boardroom barons that an idea is worth their investment. The Dragons are ruthless and rightly so - it's their own personal money on the line.
One of the most successful Canadian reality programs, DRAGONS' DEN reached nearly one-quarter of all Canadians through the course of the 2016/17 season. In addition to its success on-air, DRAGONS' DEN is also a hit online, boasting an active and engaged online community and averaging nearly 93,000 page views per week. Full episodes and exclusive behind-the-scenes content can be viewed at cbc.ca/dragonsden.
DRAGONS' DEN is filmed at the CBC Broadcasting Centre in Toronto and airs Thursdays at 8 p.m. (8:30 NT) on CBC Television. Tracie Tighe is executive producer and Christopher Nelson and Yette Vandendam are senior producers. Dianne Buckner hosts.
Find the show online at:
cbc.ca/dragonsden
facebook.com/dragonsden
@cbcdragon #cbcdragonsden
Nick Coutu
https://www.engager-rings.com/
hello@engager-rings.com
Contact
Engager Rings
Nick Coutu
416-569-8720
https://www.engager-rings.com

Contact
Multimedia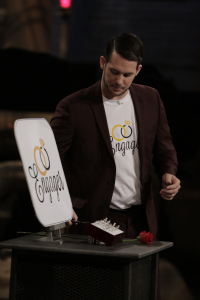 Every custom ring is a unique work of art in the hands of Marianne and Moe Coutu, who have been helping happy couples create the fully custom engagement rings of their dreams for more than three decades at Lessard Coutu Customer Jewellers in St. Catharines, Ontario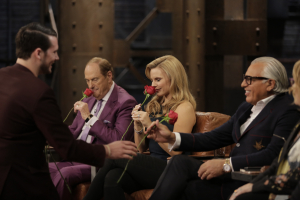 Engager Rings has been selected to appear in an upcoming episode of DRAGONS' DEN, airing Thursday Jan 18th, at 8:00 PM (8:30 NT) on CBC Television.