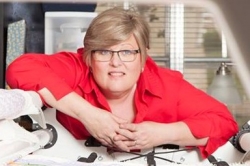 Harker Heights, TX, March 10, 2018 --(
PR.com
)-- Laura A. Winckel of Harker Heights, Texas has been honored as a Woman of Distinction for the first quarter of 2018 by P.O.W.E.R. (Professional Organization of Women of Excellence Recognized) for her outstanding contributions and achievements for over 5 years in the retail field of quilts. Each quarter they chose four women for their distinction award. These four noteworthy women deserve recognition for their exceptional accomplishments. They go the extra mile to achieve results and create a significant impact in their chosen profession.
About Laura A. Winckel
Laura Winckel is the Owner and Founder of Quiltopia/Quality Quilts by Laura, which is her international company that creates personalized quilts. She is responsible for all operations. What started out as making a few quilts for friends has turned into a flourishing business that has attracted local professionals who want to remember their loved ones. Laura spends at least an hour with her customers during the initial consultation so she can learn intimate details about the person the quilt is meant to represent. Then she goes to work, searching for the right fabric and incorporating old clothes in order to craft a patchwork story of the person's life. While the majority of her business focuses on memorial quilts, she also makes heirloom quilts that celebrate meaningful events such as weddings, anniversaries and births. She helps mourners memorialize their lost loved ones. Customers who have commissioned Winckel call her quilts "hugs from heaven." They've even deemed her as "The Quilt Angel."
What began as a hobby 25 years ago became a business in 2013 when Winckel's mother, Lee Hodgson, gifted her a long arm quilting machine. Hodgson had been admitted to the hospital by the time the machine arrived, so Laura would share photos of the new long arm being assembled during hospital visits with her mother. Hodgson finally got to see the long arm in person when hospice wheeled her into Winckel's home prior to her death a few weeks later.
Laura obtained a M.A. from college. She is an award-winning quilter and will have a full page article in the upcoming issue of P.O.W.E.R. magazine; a spot reserved for outstanding members. She serves as President of the Crossroads to Texas Quilt Guild and is the former director of membership for the Quilts of Valor Foundation (2014-2015). Ms. Winckel presents seminars to grieving professionals, funeral directors and quilters throughout Texas.
Sadly, in 1991, Laura's 3-year-old daughter Sarah died from tuberous sclerosis. Today, she serves as a Stephen Minister, volunteer Chaplain with Seton Medical Center, and a member of Community of Hope. She also ran a community grief support group in 2014. She believes that combining her community outreach around grieving and her love of quilting was a natural progression.
Laura offers workshops and in her spare time she enjoys volunteering and family activities.
"These precious quilts carry connections to our personal and cultural past. I love when a client comes into the studio, sees their quilt for the first time and says 'Oh yes, that's my grandma.' Nothing connects us to our heritage quite like the cozy warmth and craftsmanship of the heirloom quilts passed from one generation to the next." -Laura A. Winckel
For further information, contact
www.qualityquiltsbylaura.com
.
About P.O.W.E.R. (Professional Organization of Women of Excellence Recognized)
P.O.W.E.R.'s mission is to provide a powerful network of women who will mentor, inspire and empower each other to be the best they can be. Through our valuable services, and collaborating with like-minded professionals, our members can gain the recognition and exposure to achieve their career goals.