EasyVote Solutions Named GovTech 100 Company for 2018
Provider of election management software recognized as top technology company, helping to improve the public sector.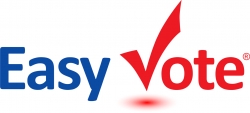 Atlanta, GA, January 09, 2018 --(
PR.com
)-- EasyVote Solutions, a leading supplier of process automation software to more than 175 state, county and local election offices across 13 states, has been named to the 2018 GovTech 100, a compendium of 100 companies focused on and making a difference for state and local governments. The GovTech 100 companies are active in one or more market segments: administrative, service delivery, intelligent infrastructure and civic-tech focus areas. Now in its third year, the list is compiled by Government Technology magazine, a respected source of information for municipal, county and state governments.
EasyVote has been providing election management solutions since its founding in 2015. Today, EasyVote is widely recognized as an innovator, helping election offices across the United States to realize cost savings, productivity gains in all facets of conducting elections. The company's growing roster of customers includes a list of some of the largest and most influential city, county and state governments across the United States including, the District of Columbia (Washington DC), Cities of Atlanta (GA) and St. Petersburg (FL), the State of South Carolina and Dallas (TX) and Shelby(TN) Counties.
"EasyVote is honored to be included with such an esteemed group of government technology innovators," remarked Ron Davis, EasyVote Solutions CEO. "The entire EasyVote team is committed to helping election offices across the United States conduct efficient, transparent elections and expect continued growth and adoption of our Election Management Platform across the United States in 2018.
EasyVote's Election Management Platform is an affordable, highly secure, series of software modules that streamline the processes integral to conducting an election. The modules include: EasyFocus (election task management), EasyPollWorker (poll worker management), EasyInventory (Inventory and asset management), EasyCampaignFinance (campaign finance filing and reporting), EasyAbsentee (absentee voting processing), Voter Services Mobile App (self-service and voter information delivered to voters on their mobile devices).
About EasyVote
EasyVote Solutions, based in Atlanta, GA is a leading provider of election management software to election offices across the United States. In cooperation with city, county, and state election offices across the United States, EasyVote ensures its products deliver the features that election offices require, based on state-of-the-art technology, and providing responsive and helpful customer support. To learn more about our Election Management Platform and see if it can help your election office, please visit
www.easyvotesolutions.com
or call (855) 467-4823.
Contact
EasyVote Solutions Inc.
Charles Davis
(855) 467-4823
https://www.easyvotesolutions.com

Contact