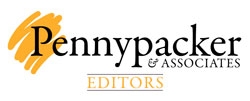 Palmyra, VA, January 11, 2018 --(
PR.com
)-- Pennypacker and Associates has just launched a new website. The company specializes in editing business, technology, marketing, and other nonfiction writing. "We work with clients to make sure that their writing is correct, clear, concise, coherent, consistent, captivating, and compelling," said freelance editor Jim Pennypacker.
The editors work with most types of writing, including nonfiction books, magazine articles, white papers, newsletters, business reports, technical papers, brochures, marketing copy, press releases, and website copy.
Editing services include:
- Developmental editing
- Substantive editing
- Copy editing
- Proofreading
- Book indexing
- Editorial management
"The value of editing is clear," says freelance editor Deborah Weiss. "A survey by the American Press Institute showed that readers rated writing that was edited as more professional, better organized, more well-written, and more worth paying for. Good editing brings out the flair in your writing."
About Pennypacker and Associates, Editors
Jim Pennypacker has more than 30 years of experience editing and publishing documents of all kinds. He is the publisher and editor-in-chief of business book publisher Maven House Press, freelance editor of the Steamship Historical Society of America's quarterly magazine PowerShips, and former publisher and editor-in-chief of the Project Management Institute. Deborah Weiss is an award-winning desktop publisher, editor, and writer who was responsible for producing the monthly magazine Philadelphia Medicine for the Philadelphia County Medical Society.