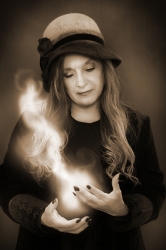 Reisterstown, MD, January 17, 2018 --(
PR.com
)-- Eileen Strange of Reisterstown, Maryland has been recognized as a VIP Member for 2018 by Strathmore's Who's Who Worldwide for her outstanding contributions and achievements in the field of holistic wellness.
About Eileen Strange
Eileen Strange has a lifetime of experience in the field of holistic wellness. She is the Founder of The Soul Shepherd which provides spiritual and holistic wellness internationally. She is an Intuitive Empath, meaning she feels her entire world, and through this she is able to do Psychic, Mediumship, and Medical Intuitive work. Eileen Strange is responsible for coaching, energy work and psychic, mediumship and medical intuitive readings by going through a client's eyes from a distance or in-person...alive or passed. She specializes in using the John of God Crystal Bed to help clients align and open their chakras for holistic healing. This often opens up shadow areas within them that Eileen is able to shine light into for them to help open up areas that have held them back for years.
Eileen states that for as long as she can remember, she has been highly sensitive and intuitive. As a very young child, she had an uncanny awareness of time and a fascination with her connection to the Earth. As she grew older, she realized that she knew whether she would like or dislike people she met before they said a word. She could feel who they were and, more importantly, who they were not. Eileen sensed early on that her family would not value or tolerate her intuitive gift, so for most of her life, she kept it hidden deep within her, only allowing pieces of it to come forward in a very private way. Later, when Spirit found her and encouraged her to use her gift, she felt like she was wearing her "true skin" for the first time and had permission to be her authentic self.
Eileen states, "Being an Empath is like a sponge, absorbing positive and negative energies from everyone around them, and even those who have passed on. Being an Empath means that you're affected by other people's energies and have an intuitive ability to feel and perceive others' desires, thoughts and moods. An Empath can read body language and sense emotions and vibrational energy, allowing them to understand what someone else is going through as if it is happening to them."
For Eileen, this is an internal, intuitive phenomenon that bypasses logic and rational thinking. "An Empath," she says, "does not operate in the realm of the intellect. When I connect with Spirit, I experience information as vibratory sensations coursing through my heart and body. It's such a nonverbal experience that often it is hard to translate feelings into words."
Spirit supports her efforts as a The Soul Shepherd by knowing what each person needs and by sending information through Eileen that helps them understand pieces of themselves and their journey. Eileen is deeply committed to helping people recognize what is holding them back from living in their "true light." She does this by acting as a mirror for others, reflecting light into the shadow areas of their lives and helping them see their true value if they are open and ready to receiving the information. For a client with medical issues, she will "drop in" to their physical body and ask her spiritual guides for specific healing or a specific direction to offer the client. More often, Spirit uses her to help people see things they may or may not already know. Sometimes just hearing a familiar truth in a different way opens up new meaning and insights. Her role is to help people help themselves and remove road blocks they may once have created for self-protection, but that are now preventing them from moving forward.
Eileen has trained under countless teachers in the psychic wellness field and is currently doing workshops related to being an Empath; the key she feels allows her to do everything else. Her teachers include but are not limited to Jeffrey Baker – Psychic, Lisa Solterbeck, LCSW, CHt, James Van Praagh, Peter Woodbury, MSW –Edgar Cayce Center (Past Life Regression), Doreen Virtue, Ph.D., Larry Dillenbeck, Virginia Able - Reiki , John of God (Brazil) – personally authorized to heal with the John of God Crystal Healing Bed, Dr. Stephen Farmer, Marisa Ryan and Dennis Deeg.
For further information, please contact www.thesoulshepherd.com.
About Strathmore's Who's Who Worldwide
Strathmore's Who's Who Worldwide is an international advertising, networking and publishing company based in Farmingdale, New York. They are proud to be able to satisfy their clients and continue to have repeat clientele due to their longevity and pride in their products and services. The Owners strive to connect business professionals to enhance their contact base and networking capabilities so they can get the acknowledgment and publicity within their industries and beyond. The Strathmore family has been providing these valuable services for over two decades. They target executives and professionals in all industries to be featured in their publication and on-line directory. Industries include business, law, education, healthcare and medicine, fine arts, IT, government, science, real estate, entertainment and many more accomplished fields. Professional profiles are listed in an annual hardcover journal and in a detailed, searchable database on the website www.strww.com.