EcoStar Diamond Adds Thousands of Diamonds to Their Lab-Grown Collection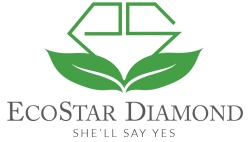 Port Washington, WI, January 16, 2018 --(
PR.com
)-- EcoStarDiamond.com, one of the fastest growing companies selling man made diamonds online, introduces The Elite Collection of Pure Carbon, Colorless, Lab-Created Diamonds to their extensive collection of Lab-grown diamonds, and diamond infused simulants.
All diamonds in the Elite Collection are DEF in color and a minimum of VS or better in clarity.
These Pure Carbon, Lab-Created Diamonds will be an option for all jewelry on their website, including engagement rings, men's rings, earrings, and pendants. All EcoStar Diamond lab created Pure Carbon Diamonds will test positive on a jeweler's diamond tester, and save you up to 50% when compared to mined diamonds of like kind and quality.
Pure Carbon, Lab-Created Diamonds are grown in a carefully controlled laboratory environment using an advanced technological process. They are physically, chemically, and optically identical to Naturally Mined Diamonds, with the exception of being grown by man.
"We wanted to extend our collection beyond our unique Lab-Diamond Infused Simulants for couples who desire the qualities of a mined diamond, but have ethical as well as environmental concerns of purchasing a naturally mined diamond. All of our lab created diamond pieces are accompanied with an IGI Lab certificate of origin as well, to provide assurance that they are ethically grown with minimal environmental impact," said Diamond Expert and Managing Director A. Messnick.
All EcoStar Lab-Created Diamonds have the phrase lab-created and the certificate number, laser engraved on the girdle for consumer protection and positive identification. EcoStar Diamond is your go to Diamond expert, providing an extraordinary collection of lab created diamonds at unbeatable prices, and offering the best Lifetime Warranty in the Business.
For more information or a Free Custom Design Consultation and quote, call 800-259-0158.
Contact
EcoStar Diamond
Armond Messnick
800-259-0158
ecostardiamond.com

Contact