NEOTD.com Hosts the 2018 Tech Symposium 4/19/2018 at LCCC - Elyria, OH
NEOTD.com is hosting its annual Tech Symposium on April 19th, 2018 (1pm-5pm) at LCCC Campus - Spitzer Center - Elyria, Ohio. This free event for Businesses, Schools, Libraries and Government Agencies will feature presentations from the tech industry's top professionals covering topics like Cyber Security - plus, the latest tech products and services. Attendees will be able to interact with experienced tech industry experts and participate in panel discussions.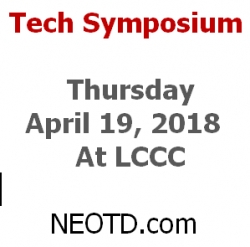 Lagrange, OH, January 18, 2018 --(
PR.com
)-- NEOTD.com is proud to host its 2018 Tech Symposium, on April 19th, 2018 (1pm-5pm) at the LCCC Campus - Spitzer Center in Elyria, Ohio. This free, one-day event is for people who play a role in their organization's tech environment.
This annual symposium is a must-attend event for any company, school, library or government agency who wants to improve their tech infrastructure. People interested in attending can reserve their spot and register at:
www.neotd.com/register
Presentations and Breakout Sessions from the industry's top professionals will give attendees insight and advice on critical topics such as cyber security - plus, see the latest technology products and services. There will also be panel discussions, where attendees can interact with experienced experts.
For more information on this Symposium on 4/19/2018, and to Register to reserve a spot, visit:
http://www.neotd.com
Contact
NEOTD.com K-12 Tech Symposium
Robert M. Miller
440-355-8008
http://www.NEOTD.com

Contact