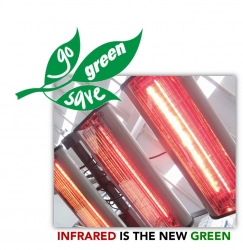 Scottsdale, AZ, January 21, 2018 --(
PR.com
)-- For many years, the use of infrared curing/drying equipment in the automotive refinish industry has been increasing. The 2 main benefits are the low running costs and the short curing times as compared to the convection oven/spray booth.
One of the other benefits of using infrared is reduced pollution, something that has largely had no exposure. B-TEC Systems has been conducting some research on paint curing and came up with some interesting facts: To dry/cure modern urethane coatings, the average oven is running for around 1 hour per bake cycle, including warm up time. Reducing one bake cycle is the equivalent of taking one commuter (car) off the road. In America, for example, 86% of cars are used for going to and from work. This may not seem like a big deal, but when you look at this globally, it makes for some interesting data.
The number of quality collision shops globally stands at around 250,000. If infrared curing equipment was used on say 2 x vehicles a day instead of cranking up that bake oven, that's the equivalent of taking half a million cars off the road. That is certainly something to think about.
Peter Phillipson, Technical Sales & Marketing Manager at B-TEC Systems commented, "Infrared equipment is not out to compete against the modern spray booth, but as the whole vehicle is only painted 10% of the time, infrared certainly has the potential to bake off those smaller jobs. This not only saves the body shop on energy costs while speeding up productivity, but also is kind to the environment."
Learn more about B-TEC Systems and mobile short wave infrared paint curing equipment at www.bteccleaners.com