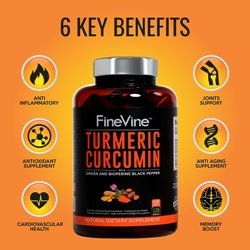 Trenton, NJ, January 22, 2018 --(
PR.com
)-- A product that promises to solve many of the health problems afflicting people and pets is now available on the market. Turmeric Curcimin, a product which is made in the USA, can now be bought at FineVine and Amazon.
goo.gl/7X1dYR
Turmeric curcumin platinum helps in relieving joint and back pain, reducing inflammation and skin dryness. It also boosts brain function and improves memory. For those who may be suffering from indigestion, the product improves digestion as well as enhancing blood circulation, as well as enhancing the immune and nervous systems.
The product is all natural; it has no genetically modified organs. There are no hormones, preservative or artificial ingredients. It is, according to the FineVine Organics spokesperson, a natural product that is safe for the body and the environment. For people who may be allergic or cannot tolerate gluten, sugar, soy, yeast or dairy, the FineVine Organics spokesperson assures them that they are safe with the Turmeric Curcumin.
Turmeric Curcumin is made in United States of America; it is a Food and Drug Administration approved product that has fully conformed to the GMP guidelines. "Our turmeric with Bioperine is third party tested to assure the highest quality and purity of each batch," said the FineVine Organics spokesperson while assuring users of its safety.
Among the ingredients in the Turmeric Curcumin are BioPerine black pepper and ginger extract, the FineVine Organics spokesperson adds that the extracts have proven to increase the absorption of Turmeric Curcumin by as much as six times for enhanced bioavailability. "These extracts are also good for the boosting of the anti-oxidant properties assisting the protective functions in the liver and GI tract.
"What is good for humans is also good for pets," said the FineVine Organics spokesperson while revealing that there is also turmeric curcumin for dogs. "This capsule has various uses including relieving joint pain, it has anti-aging effects as well as improving the immune system and nervous systems," added the representative while outlining the benefits of the supplement to both humans and pets.
FineVine Organics is committed to providing its customers with affordable and quality. Customers who have used the product are happy with the products; the reviews left by those who have bought and used turmeric curcumin say that they have seen a difference in the management of joint pain, boosting of immunity and improvement of the nervous system. Buy now with 20% discount; Use Code: TURMERIC20
www.finevineorganics.com/products/turmeric-curcumin-bioperine-pepper-ginger