STEMPilot Career Training for British Columbia Canada Students
STEMPilot delivered 4 Edustation flight simulators for career education for schools in British Columbia. The Ministry of Education is focused on training students for future careers in math, science and engineering. The flight simulators coach the student to fly through boxes in the sky over Vancouver flying a Bombardier CRJ aircraft.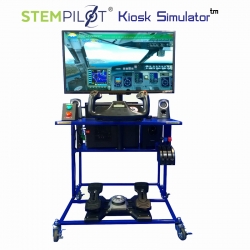 Waterbury, CT, January 23, 2018 --(
PR.com
)-- STEMPilot Inc. Delivers Education Career Training Flight Simulators for Ministry of Education for the Province of British Columbia.
STEMPilot Inc. has delivered 4 Edustation Kiosk Flight Simulators for student career development in British Columbia, Canada with Inventa Inc. executing the mobile career program. The Ministry of Education for the Province of British Columbia has added aviation and engineering careers to their student focus. The aviation industry is experiencing a severe shortage of qualified pilots providing one of the many meaningful career paths for students. Canada's major aviation industry requires engineers to support their future manufacturing and design needs. Force CA operates a wide variety of aircraft providing great career training in a variety of aviation and support functions.
British Columbia wants to jump start young students into motion by learning about exciting aviation career opportunities. The edustation flight simulators are designed so students have a three-minute experience flying an actual Bombardier CRJ aircraft flying from Vancouver Sound toward downtown Vancouver. The Kiosk Flight Simulator verbally instructs the student to control pitch and roll by moving the yoke. The student is coached to fly through boxes in the sky to complete maneuvers climbing 500 feet, descending 500 feet, rolling to the right then rolling to the left and finally flying through a yellow hoop, signifying the end of the mission. If the student successfully passes through each box and the yellow hoop, the simulator celebrates success. The edustation simulator now resets itself awaiting the next student to press the green start button.
Click Here to Fly the Mission
.
Click here to visit our website
.
STEMPilot Inc. flight simulators are used in K-12 STEM education with its K-12 curriculum and tutored simulator learning missions, all aligned with Next Gen Science Standard and Common Core standard. Every flight plan applies geometry, physics, algebra, trigonometry, meteorology, topography and geography.
Contact:
jay@stempilot.com
203-527-5747
STEMPilot Inc.
20 S Commons Rd., Waterbury CT 06704
Contact
STEMPilot Inc.
Jay LeBoff
914-262-1366
www.stempilot.com

Contact
Multimedia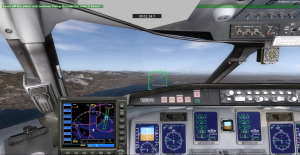 This is the view form the cockpit flying the tutored mission over Vancouver, Canada