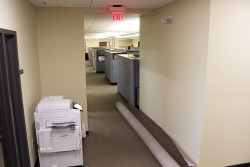 Knoxville, TN, January 24, 2018 --(
PR.com
)-- Vericom Global Solutions, a global manufacturer of data, voice, video and security solutions, that provides an unparalleled combination of value and performance for customers, has completed an expansion to their Knoxville, Tennessee corporate headquarters that doubles their existing office footprint to meet ongoing customer demands.
Vericom Global Solutions chose Knoxville, Tennessee for their global headquarters in 2009 and since that time, has continued phenomenal year over year growth that necessitated a doubling of their existing footprint at the Knoxville Century Park office complex. Vericom Global Solutions has additional corporate locations in San Diego, California and Denver, Colorado, with warehouse shipping locations in Knoxville, Tennessee and Reno, Nevada. These strategic office and warehouse locations are designed to allow the company's growing product lines to be easily shipped to locations throughout the United States, Canada, Latin America and South America.
"This expanded office space, which encompasses over 4,000 square feet of additional space to our corporate headquarters, will allow us to better meet the needs of our clients on a global basis," said Ken Rodgers, President of Vericom Global Solutions. "With our strategic locations throughout the United States, Vericom Global Solutions' offerings of industry leading products for the electrical, telecommunications, safety, satellite and security markets will continue to expand. We are extremely excited about the growth in our Knoxville Corporate headquarters, as well as our new Denver, Colorado location, and how this growth will allow us to extend our customer service, product lines and sales opportunities for 2018 and beyond."
Vericom Global Solutions offers an outstanding range of high-quality data, telecom, audio/video, safety, satellite and security products that are designed to deliver superior quality at outstanding pricing for companies, regardless of size. For more information on the product lines offered by Vericom Global Solutions, visit vericomsolutions.com.