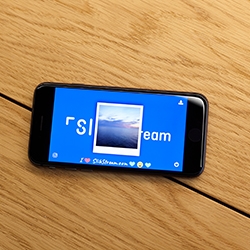 London, United Kingdom, January 26, 2018 --(
PR.com
)-- Slibstream has launched it's free to sign up Instagram digital photo frame service from it's headquarters in London, United Kingdom. The Slibstream web app received permission approval from Instagram to use the Instagram API last week.
Slibstream is an Instagram digital photo frame service that runs in a web browser and requires an active WiFi connection. It places an Instagram user's photo content and in a cool digital photo frame that the user can customise. Users that create frame designs can share their Slibstream photo frames with other Instagram users to enjoy.
The digital service provider offers two levels of subscriptions: a free to use and a premium plan. Users that want to create their own branded or customised digital photo frame can do so with the free account.
The company was inspired to build Slibstream due to the latest technological advances in web browser capabilities on tablets. Slibstream uses a web app to power the digital photo frame platform as opposed to a native iOS or Android app. The Slibstream web app plays in web browsers which means it naturally works on iOS, Android, Windows and Linux phones, tablets, laptops and pcs without requiring an additional app install.
Slibstream mimics the qualities of traditional digital photo frames such as having a full screen mode and live update feature. The web app has four other surprising unique qualities: live broadcast of emoji and messages on the frame, customisable frame designs (library of 60+ frame options), colour changing photo frames and users can select which of their photos play using their Instagram hash tags.
"We are happy to reach our launch milestone. Slibstream is a great way for Instagram fans to use their Instagram content in a new and exciting way. We are looking forward to sharing our web app with the Instagram community." -Ben Llewellyn, CEO of Slibstream
About Slibstream:
Slibstream is a trading name of Slib Design Limited. Slib Design Limited is a web development company. The main focus of Slibstream is to offer a complimentary service to Instagram users that adds value to peoples lives and enables users to play their photo content on their tablet in their home just like a traditional digital photo frame. You can visit the website at:
www.slibstream.com