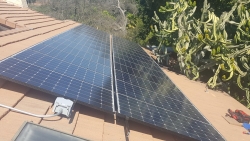 San Diego, CA, February 01, 2018 --(
PR.com
)-- Due to the ever-increasing demand for solar energy and reduced dependency on public utilities including San Diego Gas & Electric, Zero Down Solar has selected SolarEdge to provide state-of-the-art solar power solutions. Additionally, the SolarEdge offering will allow Zero Down Solar to meet California's Rule 21 compliance. The offering, which includes SolarEdge's StorEdge® solution, will increase Zero Down Solar's storage capability for smart energy management and back up of selected loads when the public grid is down.
California's Rule 21 refers to the generator interconnection requirements of each California Investor-Owned Utility (IOU). Rule 21 requires inverters to have new grid support functions and a new certification under UL 1741 SA. Each new inverter also gets a new nameplate label that identifies it as a "Grid Support Utility Interactive Inverter."
Zero Down Solar has attended numerous training sessions by SolarEdge and has a close working relationship with their senior management team in California.
At the end of March 2018, SDG&E will start switching residential solar customers from Tiered rates to Time of Use (TOU) rates. The peak rate period is now 4pm-9pm, so it is more beneficial than ever to optimize solar systems so that solar energy is used during the peak rate period. SolarEdge's StorEdge solution achieves this by charging the battery during the daytime when solar energy production is highest (and at the semi-peak rate period) and using the power from the battery in the late afternoon/early evening when SDG&E's rates are the highest.
"This offering is just a natural fit," said Iiro Yrjola, a Sustainable Energy Consultant who works with Zero Down Solar. "SolarEdge provides exactly the type of integrated solutions and guarantees that align with Zero Down Solar's core mission, which is to give our customers peace of mind and conservation of wealth as a result of smart energy solutions."
During the establishment of the relationship and numerous intensive training clinics, both management teams developed a working program that supports Zero Down Solar's core mission, which is to give their customers:
-Energy independence and solar savings
-A more comfortable living environment
-The knowledge of helping the environment
The SolarEdge system consists of power optimizers, inverters, storage solutions, and a cloud-based monitoring platform. The SolarEdge DC optimized inverter system maximizes power generation at the individual PV module-level while lowering the cost of energy produced by the PV system by keeping the AC inversion and grid interaction centralized. SolarEdge's StorEdge solution, a DC-coupled storage solution for increased efficiency, directs unused PV power into a battery to be used during a power outage or when PV production is insufficient in order to allow homeowners to maximize self-consumption and energy independence.
About Zero Down Solar
Zero Down Solar
is a family business, which has been in the Solar installation market for nearly a decade. They are an installer of solar panel systems for commercial, non-profit and residential application.