E.L Discipline is Helping Individuals Master Self & Mental Discipline
Author E.L Discipline has taken his expertise to another level, and is now educating individuals on improving the way they interact in their daily lives. His new book, "The Importance of Discipline," (Published by Andrea Johnson Books Publishing) is a resource of mastering the art of Discipline and success.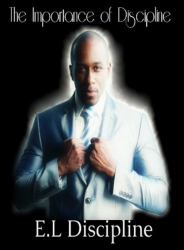 Long Island, NY, February 11, 2018 --(
PR.com
)-- Knowledge is power. The use of it, and the way we wield that power, is another thing entirely. "The Importance of Discipline" was created to be a resource to the masses. An information of subjects and discussions, that are not often placed at the forefront of the issues we deal with on a regular basis. It is imperative that you not only obtain the information you seek, that can help you achieve your goals and aspirations. It is paramount that you also understand how to make the knowledge you accrue, work in your favor.
"The Importance of Discipline" is a self-help, and mental guide that gives factual based discussions on the information we know of, but often do not fully understand. It incorporates real life situations and experiences that people are faced with, but very seldom illustrate the knowledge of how to properly use these instances in their favor. This book helps readers in a way that allows them to take the tools they have available at their disposal, and compound it with information that is key to leading a healthier and more fulfilling life.
"The Importance of Discipline" covers self-improvement and mental empowerment in a way that anyone can utilize. It is a guide that educates individuals on the basic daily living methods, and how to control any environment to your advantage.
This book touches on the issues that are an integral part of the way we live our lives. Regulating your patience, becoming more accountable to yourself and others, learning how to adapt to any situation around you. These, among other key components, are crucial to having a better lifestyle.
"The Importance of Discipline" is a resource of knowledge, that can be used for generations to come. It is designed to appeal to all people from many different walks of life. There is a wealth of information that can be applied to assist in any level of your career, and help you gain better access to a successful future.
There are many self help books out there are full of information and can be an asset if used correctly. However, "The Importance of Discipline" is not only a guide for better living. It is also a blueprint that can give you the tools you need to implement that knowledge for good use. It breaks down for you the things that are not discussed. Not only the "How's" but also educates and illustrates the "Why's." Breaking down in barriers so that you not only have the knowledge but can also understand it as well.
E.L Discipline states: "My goal, as an author, is to educate individuals on information they receive, but don't really understand or know how to apply it to their own daily life. This book will break down into sections the things you will need in order to not only win but maintain that success. I want to give the people something they can pass on for generations to come."
The author, E.L Discipline, also expressed his views on knowledge: "Having knowledge can take you far. But having knowledge with understanding is what makes you a success. I learned early on, that in order to get anywhere in this life, you need both. I took the skills that I learned in school and applied it to my real-life experiences. Also gathering information and using what I obtained to be a resource. Now I aim to give back what I have accrued and change the lives of anyone I come into contact with."
"If you can master self and mental Discipline, you can take on anything."
– E.L Discipline
www.ajbpublishing.com
Contact
Andrea Johnson Books Publishing
Andrea Torres
888-782-4773 - ext 6
www.ajbpublishing.com

Contact