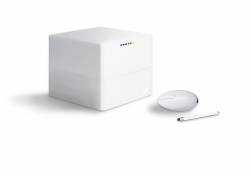 New York, NY, February 26, 2018 --(
PR.com
)-- "Ostium Lab - are simple humans from Earth. Laboratory was founded on July 29, 2014. Ostium Lab work in the field of basic research of neurophysiology and neurocybernetics. Ostium want to change people concern to reacting only to emergency medical situations. It is time to take a step forward and start preventing health problems before they arise. Our team hopes for your help and support in our work to make the world a better place," said Ostium Lab Founder, Oleg Kuznetsov.
Ostium launched a crowdfunding campaign to continue this project, to improve the hardware and software complex, to process state registration and to launch mass production. For this project Ostium Lab chose a leader in global crowdfunding - IndieGoGo.
After many years of fundamental research in the fields of neurophysiology and neurocybernetics, Ostium have discovered a revolutionary method for diagnosing the human organism's internal state.
This method is based on the theory of internal organ reflectivity as represented in the cortex of the brain.
Ostium method makes it possible to detect illnesses at the stage of early functional disruptions, long before the onset of the first noticeable symptoms. Moreover, Ostium are able to predict, well in advance, many serious ailments, from asthma to tumors.
Their patients gain advance insight into where they most need to focus their efforts and what lifestyle changes are needed well before the onset of illness.
Ostium Lab experiments led to the development of a new device that offers a glimpse into the internal human cosmos and allows the condition of every organ to be seen without any invasive procedures.
Using an analyzer that scans the auricle, Ostium connects to the patient's central nervous system and conducts a data exchange, after which a program unit analyzes the information and outputs the results for every internal organ.
For more information, please visit https://www.indiegogo.com/projects/ostium-door-to-health-lifestyle/x/17893378#/
Our press kit:
https://drive.google.com/open?id=1sWoJ4nSA8me7BvyejQ1ufHmT3x42s14Z
E-mail for requests: ok@ostium.me