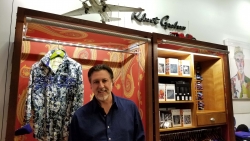 West Hills, NY, February 27, 2018 --(
PR.com
)-- Rosario S. Cassata has been a Collector of the globally recognized clothing designs of Robert Graham since 2010.
Rosario joined the Robert Graham Collectors Club back in 2014 and has since earned the esteemed status level of Curator.
He has currently amassed a collection of over 200 Designer and Limited Edition shirts.
As a Curator Collector Rosario was afforded the opportunity to be involved on the 2018 Spring Season and has had a shirt designed and honored with his family name on it.
Rosario has named his shirt "The Cassata" which represents the colors of his 1966 boyhood hero the Cape Crusader Batman aka Adam West.
The shirt is a cotton fabric abstract motif featuring molten metal like embellishments and clear plastic overlays detailing at placket and sleeves. There is also ornate embroidery highlights on both the chest and back.
Each Limited Edition Sport Shirt will be individually numbered.
"The Cassata" will be a Limited Edition exclusive to Robert Graham with only 539 pieces worldwide and will be available the Spring 2018.
Rosario will be honored at The Robert Graham Store at Time Warner Building in February.
Robert Graham creates four menswear and women's wear collections a year - spring, pre-fall, fall and resort.