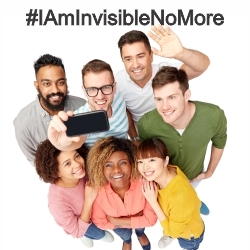 Parker, CO, February 28, 2018 --(
PR.com
)--
Invisible Disabilities Association
(IDA) launches its first annual #IAmInvisibleNoMore Video Campaign and Contest allowing those impacted by invisible disabilities to share their stories to bring awareness and have the opportunity to win prizes. Through online voting, there will be 25 prize winners. First place winner will receive $500 and a trip Denver to the IDA "Be the Voice" Gala on October 19, 2018. Gala details at BeTheVoice.Live. Submit your story and Vote on the videos at
InvisibleNoMore.com
.
"Living with an invisible disability means struggling to get people to believe you when you explain how your condition affects you," said IDA founder and CEO Wayne Connell. "Imagine being labeled as lazy or rude because people don't appreciate how your illness makes certain activities impossible. This disbelief not only affects relationships, it can be a barrier to care and benefits as well."
IDA has been advocating and raising awareness for people with invisible disabilities since 1996 and is partnering with
Allsup
, the nation's premier provider of Social Security Disability Insurance (SSDI) representation, to connect people through storytelling with the #IAmInvisibleNoMore video contest. In addition, IDA joins the National Organization for Rare Disorders (NORD) and recognizes February 28, 2018 as Rare Disease Day.
The most common symptoms of invisible disabilities include chronic and debilitating pain, extreme fatigue, cognitive impairments and depression. Some examples of these conditions include multiple sclerosis, lupus, lyme disease, fibromyalgia, POTS, RSD, dysautonomia, multiple chemical sensitivity, traumatic brain injury, mental illnesses and other disorders that are not readily apparent. The most common cause of disability is arthritis, according to the Centers for Disease Control and Prevention.
Online votes will determine the winners for the #IAmInvisibleNoMore video contest. Last day of voting will be on March 16, 2018. IDA and Allsup will host Facebook LIVE events and videos with tips on how to tell your story. Follow Allsup and IDA on Facebook to be notified of live events and contest updates. Contest details at InvisibleNoMore.com.