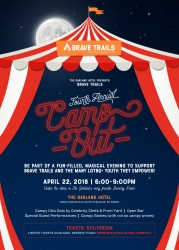 Los Angeles, CA, March 01, 2018 --(
PR.com
)-- Brave Trails, one of the nation's only leadership summer camps for LGBTQ youth is thrilled to announce that Hayden Byerly (The Fosters) and Karamo Brown (Queer Eye) will be making special guest appearances at their Fourth Annual Camp Out benefit event.
On Sunday, April 22, 2018 from 6pm to 9pm, Brave Trails will host its Fourth Annual Camp Out benefit event hosted at The Garland Hotel's very private Beverly Park located at 4222 Vineland Avenue, North Hollywood, CA. This event serves as a major revenue generating event to fund essential programs and operations to ensure that Brave Trails programs continue to thrive. "To think just three years ago we welcomed 43 LGBTQ youth to our camp and now this year we are going to welcome more than 240 LGBTQ youth! Clearly this safe space for LGBTQ youth to develop their leadership skills is much needed. We are proud to be one of the nation's only leadership focused summer camps that truly empowers these kids to become amazing leaders and change-makers back in their communities," says Jessica and Kayla Ryan Weissbuch (co-Founders). The evening will be filled with star-studded appearances by Hayden Byerly of The Fosters, Karamo Brown from Queer Eye and Jamel King. An open bar, camp inspired food, campy games (with not so campy prizes), and incredible performances by the internationally renowned Stilt World and incredibly talented Brave Trails' campers will be the highlight of the evening. Tickets are just $75. The goal of the evening is to raise over $100K. "It is time for the LGBTQ community to come together and celebrate and support these amazing young LGBTQ future leaders. Our organization relies on individual donations to continue to operate," says Daniel Bauer, Brave Trails Development Manager. Tickets can be purchased and additional event information can be viewed at
http://www.bravetrails.org/campout
.
Brave Trails is a non-profit organization based in Los Angeles, CA with a mission of transforming LGBTQ youth and families into leaders through summer camp and innovative programming. In 2015, Brave Trails opened their doors welcoming just 43 LGBTQ youth to camp. This year, Brave Trails will welcome over 240 LGBTQ+ youth, launch their very first LGBTQ Family Camp and test-pilot a year-round mentorship program. Youth who attend summer camp are empowered to return to their communities to make change. Examples include youth starting their own Gay-Straight Alliance School Club, or fighting for equality in school policies, or conducting other community service programs for the better of their communities. Brave Trails is proud to be one of the only safe spaces for the LGBTQ youth community where leadership, service, self-realization and social justice are key focus areas for youth to engage and learn. For more information about Brave Trails visit
http://www.bravetrails.org
.