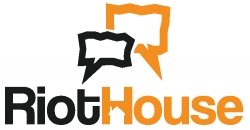 Warrenton, VA, March 01, 2018 --(
PR.com
)-- A Virginia-based tech company is hoping to unclog your Facebook feed by giving political and social debates a home of their own. RiotHouse, a social media platform dedicated to hosting debates around popular issues, is launching a mobile app this spring.
The platform, currently live on the web at RiotHouse.com, gives users the ability to:
-Start debates with custom titles, descriptions and photos
-Contribute to other user debates via comments
-Reply to comments in easy-to-follow threads
-Vote on comments and issues
-Tag users in comments
-Share debates on other social platforms
-Localize debates by restricting a topic to a specific geographic region
-Privatize debates by restricting who has access to contribute to a debate
"Debate is a healthy part of society, and everyone should have an outlet to share his or her voice, and seek out the opinions of others," said RiotHouse Founder and CEO Matt Carson. "Our hope is by creating a platform to spark debate – even taboo and highly controversial ones – we can expose users to new ideas and stimulate critical thinking through conversations with people different from themselves."
In addition to the platform's public-spirited intentions, RiotHouse will fill a long-standing void online. While the original promise of the internet was to create opportunity for people of all backgrounds, ages, locations and world views to connect in real-time, modern social media channels hurt more than help.
"Facebook, Twitter and other social channels create echo chambers," said Carson. "Users follow and engage with people like them, and algorithms reinforce those silos by recommending and promoting content from people with common interests and locations. RiotHouse breaks down those barriers to expose people to new kinds of thinking they wouldn't normally encounter scrolling through their Facebook feed."
While the platform will initially serve the general public, the app has potential to influence brands as well. Marketers looking for authentic customer input on product ideas or new features can create a debate on RiotHouse and watch consumers share their thoughts in an unfiltered environment.
RiotHouse is already making waves. The company will participate in the ALPHA Program at the Collision Conference this year in New Orleans. The selective program gives high-potential startups access to successful entrepreneurs and resources through mentorship opportunities, workshops, roundtables and Startup University, an immersive education program curated specifically for entrepreneurs.
In addition to launching this spring, RiotHouse has more new features underway to be rolled out later in the year. The platform is currently accepting new users who want to reserve their handle now.
For more information or to schedule an interview, contact Matt Carson at matt@riothouse.com
About RiotHouse
RiotHouse is a social media channel optimized for debate. The platform lets users create debates, comment on issues and engage with ideas different from their own. The app was born from Outsider Labs, a think tank created to explore and commercialize ideas for apps, software and other products.