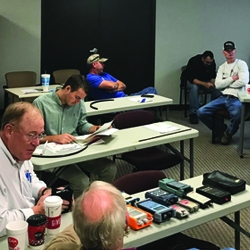 Ottawa, Canada, March 15, 2018 --(
PR.com
)-- Ambitious network engineers and technicians attending the 2018 CanWISP Conference in Ottawa will arrive early this year for a popular MTCNA (MikroTik Certified Network Associate) certification course led by Steve Discher, certified Mikrotik instructor and author of RouterOS by Example. The training will begin Friday, March 23 and will lead up to the conference and annual general meeting of the Canadian Association of Wireless Internet Service Providers, which kicks off Monday, March 26.
"These classes are designed to speak to any student regardless of their level of understanding," said Discher, CEO of ISP Supplies, a one-stop shop for networking professionals, "Even experts will learn best practices and the tips and tricks I have learned after nearly 15 years of using Mikrotik RouterOS. The materials are structured in such a way that regardless of your level of understanding, there is a lot of material delivered in the most understandable way."
The training will take place in the Hilton LAC-LEAMY Conference room from 9:00 am until 5:00 pm each day. Classes will be an engaging combination of lecture and lab with time for questions, answers, and an hour lunch break. By the end of training, students will be able to configure, manage, and perform troubleshooting of a MikroTik router.
On the final day, students will have an opportunity to take the MTCNA certification exam. Students who don't pass the exam will receive a certificate to take the training again at no cost during a regularly scheduled public class.