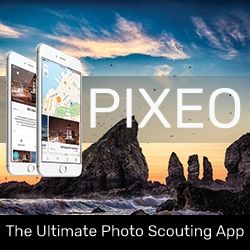 Halifax, Canada, March 04, 2018 --(
PR.com
)-- Finding places to shoot is tremendous challenge for photographers. PIXEO was the brainchild of photographer Shawn M. Kent. He states, "I wanted to spend my time shooting, not searching for things to shoot." PIXEO solves this challenge by providing a mobile map to all the photogenic spots nearby. No matter where you are in the world, you can tap on a pin to get a preview image of the nearest photo spot. Simple swiping allows you to browse other nearby photo locations.
Once you've selected one, a tap shows details about the spot, including a description, gallery of photos, and feedback from other members of the PIXEO community. Collaboration is key, allowing photographers to easily share newly discovered locations, swap insightful feedback for shooting each spot, and upload their own photos to the gallery of each location with full credit of their choosing.
Categorization also allows you to select only those sites that speak to your preferred style of shooting. Lighthouses, abandoned buildings, and scenic vistas are all subdivided in the app to make it easy to only view those spots images most suited to your particular photographic interests.
See a location you like, but the time is not right to go shoot? Favorite the location and visit it later. Favoriting makes it effortless to plan a weekend photo excursion or time golden hour just right. You can even browse and favorite spots for your next vacation destination and have a photo plan before you even board the plane.
Visit their website to learn more and sign up to be notified when the app launches.
For a limited time PIXEO is offering a 30-day free trial. Subscribe for $2.99 a month or take advantage of the annual discount price of $24.99 a year.
The PIXEO app is proudly built by PIXEO Inc. in Halifax, NS in collaboration with Canada's premiere app development company, Mindsea Inc.