Fish-Derived Naturel Collagen Heals Trauma to the Skin
The root cause of aging is the degeneration of collagen fibers. Naturel Collagen's breakthrough technology utilizes a unique form of collagen that regenerates the skin's collagen fibers. The result is biologically active, fish-derived collagen hydrate that soothes and heals the skin, while reducing the signs of aging.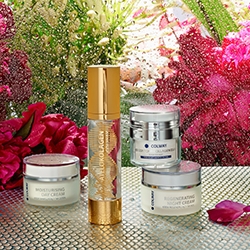 New York, NY, March 06, 2018 --(
PR.com
)-- Amidst a sea of thousands of collagen skin care products available on the market today, there is one form of collagen that stands out from the rest. Naturel Collagen, an eight-year-old Canadian collagen skin care and supplement company offers an unmatched form of fish-derived collagen that is proven to heal burns and other trauma to the skin. Using an advanced technology that maintains the "live" protein structure referred to as collagen hydrate – this biologically active formula is designed for superior absorption into the skin.
A similar approach to utilizing "live" fish collagen as a natural healing agent has also been used to help animals heal injuries at an accelerated rate.
The Washington Post recently reported a story of two bears that suffered third-degree burns on their paws due to wildfires in California. The bears' injuries quickly improved with the aid of fish-skin "bandages" fashioned from sterilized tilapia fish skin and sutured onto each bear's paws. This enabled the healing and soothing of the collagen protein from the fish skin to be directly absorbed. Instead of six months, as originally anticipated by the attending veterinarian, the bears' burns healed in a matter of weeks, allowing them to be relocated back to their natural habitat.
This incredible story of recovery demonstrates the healing power of collagen in its most natural form. Collagen can be considered "liquid skin" and is the body's commonest substance, after water. The main structural protein in connective tissue, collagen comprises over 70–75 percent of skin and 25–35 percent of whole-body protein content. Collagen regenerates the body's cells. It is abundant in the cornea, bones, blood vessels, the gut, intervertebral discs and dentin in teeth. Collagen gives skin its elasticity, hair and nails their strength, and keeps tissues, cartilage and muscles connected for healthy, flexible joints.
European scientists discovered that by capturing and extracting the collagen from fresh-water fish skin in the early stages of the developmental process, the result was a biologically active, collagen hydrate that quickly penetrates human skin.
The North-American distributor of this discovery, Naturel Collagen, is one of the only companies in the world that offers this unique form of collagen hydrate in their skin care products and supplements. Most of the collagen skincare and supplements on the market are derived from hydrolyzed collagen, which has undergone a rigorous chemical process to be useful, rendering temporary and minimal effects.
Naturel Collagen's exclusive collagen serums are popular as they visibly reduce wrinkles and fine lines after only 110 days of use, which is the time needed to rebuild your skin's collagen structure. They are equally successful in healing the skin from burns, including sun burn relief, abrasions, and diminishing redness and certain skin pigmentation conditions.
Native Collagen Pure, Natural Collagen Platinum and Atelocollagen are often used after laser treatments and other cosmetic procedures, to decrease healing time. Within weeks of using Naturel Collagen products, the skin looks brighter, plumper and more youthful.
Naturel Collagen website:
www.naturelcollagen.com
Contact
J.E. Moyle Consultants
Joanne Moyle
212-655-4435
www.naturelcollagen.com
Jill Armstrong
jill@jemoyleconsultants.com

Contact