Elsner Technologies' New Magento Extension: Infinite Scroll
Enhance the customer experience at e-commerce stores with the newly added Infinitely Scroll Magento 2 extension by Elsner Technologies Pvt. Ltd. Clients can add the infinity scroll along with loading products automatically.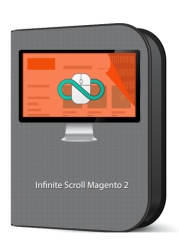 Lakeland, FL, March 08, 2018 --(
PR.com
)-- Elsner is a leading web development company expert in Magento as well as WordPress development. Elsner has been working for more than ten years and has a widespread connection in various countries. The company has contributed numerous extensions to the Magento community. Elsner has now come up with a newly developed Magento 2 extension. An extension with wonderful features is now available.
The
infinite scroll magento 2 extension
will let Magento store owners add the infinity scroll along with letting products load automatically. In the catalog page, customers can scroll down the website to the end easily. Store owners can let the products load automatically or manually, if required in any way.
This is an extension that has come up directly from expert and skilled Magento developers. It is designed especially in order to load the next website pages automatically. When the store owner has adopted this extension, customers will be able to scroll to the next web page easier and faster than ever. Also, when customers are exploring any single page of the website, they can get to the next page automatically through AJAX.
This Magento 2 extension comes with an amazing flexibility that mentions the possibility of being integrated with every
custom magento development theme
. Whichever theme the Magento store contains, this extension fits perfectly with all of them.
It is noted that when customers can scroll through products easily, they tend to stay on the store page for a longer time.
Also, when they stay on the website, they buy more products from the store. This may lead to the enhanced sales growth of the Magento store.
When the store contains this extension and provide an incredible user experience, customers will be happy to have a friendly user interface in order to save on clicks.
Features of the Magento extension:
Customer can load a whole web-page automatically thus offering customers the option to easily explore.
Suitable to all Magento Themes
Customized navigation bar.
Option for secure codes in order to experience advanced payment security.
When using catalog, the infinite scroll attracts customers to find their desired products.
Makes the store backed up through request while loading of web pages.
The admin will also be able to enable/disable the scroll functionality from within the admin configuration.
For more information, visit Elsner.com.
Contact
Elsner Technology
Harshal Shah
604-524-4040
http://www.elsner.com/

Contact