Tourme Introduces a New Way of Touring
Tourme is a new application that is ready to revolutionize the way people travel.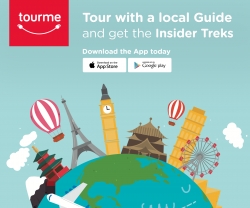 Saint Petersburg, FL, March 06, 2018 --(
PR.com
)-- Now available in the App Store and Google Play, "Tourme" is the new travel platform that is going to change the face of the tourism industry as we know it.
Following the trend of peer-to-peer user experience platforms, Tourme allows travelers to connect with local experts for a memorable and personalized experience no matter where they are in the world.
Tourme began as a dream: a father-daughter quest for pineapple picking farms in Maui that became a blockbuster-script-worthy adventure. With the help of a friendly local, the duo not only found their pineapples, but shared an experience that would live in their hearts forever. It was this memory that sparked the idea for the peer-to-peer touring platform, Tourme.
From the sandy beaches of Lahaina to the drawing room floor, the vision for Tourme started coming into focus in 2015. What ensued was a 24+ month whirlwind of research and development that eventually led to a fully realized travel app and website with 10,000 potential tour guides in 150 countries around the world.
Tourme offers 4 types of tours to help travelers find the right guide for their next adventure.
For travelers looking to book comprehensive tours, the Find a Tour and Shore Excursion options offer just that. Designed by carefully selected local guides, these tours offer a wide array of activities and adventures for everyone to enjoy. Book in advance or from the plane, Tourme offers flexibility and choice unmatched by similar services, giving you the power in the palm of your hand.
The Instant Tour feature gives users a unique vantage point for experiencing their destination from the moment they arrive. Hire a tour guide to escort you around the town and point out places of interest, historical landmarks and the best drinking and dining options around. Because this is not a taxi service, users can expect a relaxing trip and an exclusive look at the area.
The Find a Guide tours are the ultimate in fast and casual experiences. Connect with a guide based on interests and specialties and let them take you on an hourly tour at your pace. With this feature, you truly tour like a local, with no rigid schedules or outdated scripts to hinder your experience.
Take a bar crawl through Barcelona, learn to Salsa in Santo Domingo, or pick pineapples in Hawaii; with Tourme, it's up to you. Download now to get the inside trek.
Tourme is operated by International Touring Apps, LLC in Saint Petersburg, Florida. For more information about becoming a tour guide please visit partner.tourme.com/welcome. Tourme complies with all local tour guiding regulations.
Download the free App today!
For iOS devices:
https://itunes.apple.com/app/id1332645977
For Android devices:
https://play.google.com/store/apps/details?id=com.tourme.tourist
Find tourme online:
Website: www.Tourme.com
Facebook: www.facebook.com/officialtourme
Instagram: www.instagram.com/tourme
Contact
International Touring Apps, LLC.
William Marquez
1-727-303-7394
https://www.tourme.com

Contact