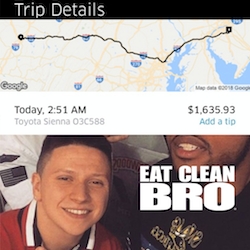 Freehold, NJ, March 06, 2018 --(
PR.com
)-- Eat Clean Bro (
www.eatcleanbro.com
), a New Jersey-based chef prepared meal delivery service has paid the $1,600+ UberXL fare for New Jersey native, Kenny Bachman's blackout ride home from a West Virginia frat party, applauding his decision to not drink and drive. Eat Clean Bro is dedicated to bringing healthy meals to your doorstep. With many delivery drivers on the roads servicing New York, New Jersey and the Philadelphia area, Eat Clean Bro stresses the importance of keeping our roads safe.
Prior to Eat Clean Bro offering to cover the Uber fare, 21 year old Bachman started a GoFundMe page (
www.gofundme.com/57o4ank
) to help him pay for his ride. Now, in collaboration with Eat Clean Bro, Bachman will be giving all GoFundMe donations to Mothers Against Drunk Driving (MADD), an organization dedicated to creating safe roads. "Eat Clean Bro's mission has always been, and will continue to be, a concerted effort to make the world healthier and happier as a whole," states Jamie Giovinazzo, President and Founder. "Eat Clean Bro is dedicated to chef prepared healthy meal deliveries focusing on clean eating for proper nutrition and good health. We have vehicles all over NY, NJ and Pennsylvania delivering fresh, healthy meals to our customers' doorsteps. Keeping our roads as safe as our customers are healthy is a priority for us, and we are happy to have this opportunity to support Mothers Against Drunk Driving to help do so."
As for any words of wisdom for Kenny Bachman, Giovinazzo states, "While it is very important to drink responsibly, it is extremely important not to get behind the wheel of a car after doing so. Eat Clean Bro is hopeful that Kenny will learn from this experience, and spread the message that it is always crucial to either call a car or have a designated driver."
About Eat Clean Bro: Eat Clean Bro was founded in January of 2013 with a seemingly simple goal: making clean eating effortless by delivering delicious, healthy meals to your doorstep. Their premise is that excellence starts from the inside out. When nourishing your body to thrive, rather than to simply survive, you free up vital energy to redirect into other aspects of life. In order to be the best version of yourself, fuel your body with what it needs. Modifying the way you eat can indeed transform the way you live and feel, which is Eat Clean Bro's goal for each and every customer.