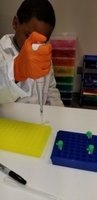 Decatur, GA, March 07, 2018 --(
PR.com
)-- Gladys Delancey-Bolding, Founder and CEO of BioLogue Laboratorium has selected Dekalb County as its location for immersive hands-on science labs for youth ages 5–18 years old. The high job demand for STEM (Science, Technology, Engineering and Math) professionals spearheaded the design of the 11room laboratory facility.
For 3 years BioLogue Laboratorium a 501c3 business has offered STEM Adventures to the community, which included hands on labs that focused on Forensic Science, Microscopy, Cosmetic Chemistry, Anatomy & Physiology, Drones, 3D Printing and more. BioLogue Laoratorium has added an array of in depth labs throughout the year on an ongoing basis. Offerings include research, genetic engineering with CRISPR, chemistry, molecular biology, pathology and more. Founder of BioLogue Laboratorium states, "Providing these opportunities at an early age can assist youth with making informed decisions about their career path and provide them with skill sets translatable into the workplace."
"As a parent with studious children, BioLogue has helped my daughters explore interests in STEM and cash in their experiences; one earned a full-four year scholarship to an ivy league school while the other who is still in 10th grade, was awarded a high honor in the County research-based science fair," says Kim N. Carswell
"BioLogue Laboratorium has ignited a fire of inquiry and exploration of everything STEM in my children," says Erin Jahi
BioLogue Laboratorium is located at 5322 Snapfinger Park Drive in Decatur. Labs are offered evenings, Monday – Thursday and Saturdays. To register for labs visit BioLogueLaboratorium.org.
For more information about BioLogue Laboratorium, please contact Gladys Delancey-Bolding at 770-846-0010 or via email at: biologuelaboratorium@gmail.com.