AD1 Global and City of Tamarac to Break Ground on Fairfield Inn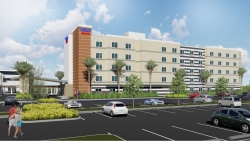 Hollywood, FL, March 07, 2018 --(
PR.com
)-- AD1 Global, Tamarac elected officials and co-developers ASI Global and EB5 Florida Hotels are holding an official ground breaking ceremony on March 19th at the Colony West Golf Club to commemorate the new Fairfield Inn.
The new 120-room Fairfield Inn & Suites by Marriott, located at 6800 NW 88th Ave, which will include a pool and splash pad, will be another amenity for the city to offer its visitors.
The project also entails the construction of a clubhouse, banquet facilities and golf cart barn.
"We are proud to be a partner of the great city of Tamarac," said Daniel Berman, AD1 Global President.
"We believe this project will have a very beneficial impact on the local economy, increase neighborhood property values and serve as a national destination for golf enthusiasts."
City officials also believe this will be a win-win for the community.
The new clubhouse will be "an economic development driver," said city Mayor Harry Dressler. "It will attract significant new banquet revenue, as well as serve to support the tourists and business travelers who come to Tamarac."
This is the first development project by AD1 Global with new partners EB5 Florida Hotels and ASI Global.
"We are pleased to welcome the Fairfield Inn & Suites by Marriott to our portfolio of EB5 sponsored projects in our Regional Center. It is especially fulfilling to know that this new commercial enterprise will create more than 165 jobs in this extremely beautiful location," said Luis Prado, President and CEO of EB5 Florida Hotels & Investments Regional Center.
This is the second AD1 project using EB-5 funds, the other being the soon to open Wyndham Garden Ft. Lauderdale Airport And Cruise port hotel.
"The EB-5 program helps to create jobs, provides tax revenue for communities and gives people an opportunity to pursue a path to citizenship," said Daniel Berman, AD1 Global President and CEO.
As part of the program, foreign investors are currently required to invest $500,000 in a business that creates and maintains at least 10 jobs to help stimulate the U.S. economy.
The groundbreaking ceremony will be held at 10 am next to the putting green. City officials including Mayor Harry Dressler will be in attendance. The event is open to the general public. A light breakfast and beverages will be available.
About
AD1 Global
:
AD1 Global is a leading hospitality development and management company located in Hollywood, Florida. The company excels in all facets of the hospitality industry, ranging from the acquisition of existing hotels, new developments, renovations and daily operations.
Contact
AD1Global
Jon McMillian
954-434-5001
www.ad1global.com

Contact