Innovative Career Education Platform Uplifts Women in Afghanistan; SearchPath, MyHuntPath and USAID Partner to Promote Afghan Women in Economy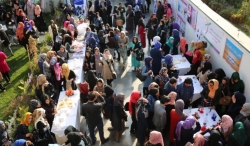 Cleveland, OH, March 09, 2018 --(
PR.com
)-- MyHuntPath are empowering individuals around the world to take control of their careers, starting with a presence in Afghanistan, India, Lebanon, and the United States. The MyHuntPath platform actively provides career coaching to college students, midcareer professionals and senior executives, and uplifts individuals and women in developing economies like Afghanistan.
SearchPath and MyHuntPath offer a platform for Afghan women to run their business under the guidance of the SearchPath Afghanistan team. Women in Afghanistan see this as a unique opportunity, which will allow them to network with large professional entities and provide a powerful representation of Afghan women on an international platform. According to SearchPath's Kabul-based Project Manager, "there are many talented women in Afghanistan, but not enough opportunities to explore and grow themselves." The Afghan women going through the program, are approaching this as a chance to develop and demonstrate their capabilities.
For those who are suited and choose to be part of the SearchPath franchise ecosystem, they will get a continuous training and support system to enhance their career capabilities as Franchisees. The SearchPath team in Afghanistan and the United States, with headquarters based in Cleveland, Ohio, closely works with potential franchisees to impart the business model and address their professional needs. "SearchPath sees all its partners equally. We provide the same high level of service, resources and support to all our franchisees, whether they are in the United States, Lebanon, Afghanistan, England, India, or anywhere else in the world," says Tom Johnston, CEO of SearchPath.
MyHuntPath will empower Afghan women primarily through computer-based personalized training, aimed at identification and enhancement of market-oriented skills and interests. SearchPath intends to bring together partners from all around the world for global conferences and further training opportunities in the future.
As SearchPath continues to grow, the company will continue pursuing opportunities to deliver the MyHuntPath career education program internationally. "We are believers of helping and guiding people from all backgrounds," says Tom Johnston, CEO.
About SearchPath, Inc.
SearchPath, Inc. (SP) is a U.S.-based talent acquisition professional services firm, with 51 franchises worldwide. Founded in 2005, SP's goal is to become the premier, vertically-integrated provider of search and recruiting services in the world. SP is also a franchisor of its business that has redefined the way clients do business with recruiters by implementing a client-centric approach that combines proven industry best practices and revolutionary concepts.
Safe Harbor Statement
This press release contains "forward-looking statements" within the meaning of Section 27A of the Securities Act of 1933 and Section 21E of the Securities Exchange Act of1934. All statements, other than statements of historical fact, including, without limitation, those with respect to the objectives, plans and strategies of the Company and SPI set forth herein and those preceded by or that include the words "believes," "expects," "given," targets," "intends," "anticipates," "plans," "projects," "forecasts" or similar expressions, are "forward-looking statements." Although the Company's management believes that such forward-looking statements are reasonable, it cannot guarantee that such expectations are, or will be, correct. These forward-looking statements involve many risks and uncertainties, which could cause the Company's future results to differ materially from those anticipated. The Company assumes no obligation to update any of the information contained or referenced in this press release.
Contact
SearchPath International
Tom Johnston
216-789-9850

Contact