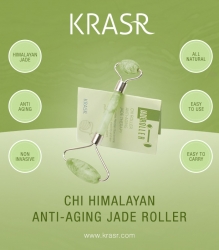 Toronto, Canada, March 08, 2018 --(
PR.com
)-- Krasr recently announced the release of the Chi Himalayan Anti-Aging Jade Roller. The newest Krasr anti-aging product is a non-invasive tool that tightens the skin, reduces fine lines, reduces puffiness and brightens dark under eyes. It is available for purchase on
Krasr
's website and
Amazon
.
The Chi Himalayan Anti-Aging Jade Roller is made out of 100% natural Jade, mined from the mountains of Himalayas. It works by applying gentle pressure that massages the skin. The device improves blood circulation, and removes excess sub-surface water, therefore tightening the skin and reducing the appearance of fine lines.
The jade roller lightens the skin, especially under the eyes, through various silicate minerals that can be found in original jade gemstones. Frequent use of the jade roller also aids in lymphatic drainage, which removes toxins and promotes generation of healthy skin cells.
The new Krasr anti-aging roller is a new take of the traditional Chinese beauty practice of using jade rollers to smoothen the skin. Krasr wants its customers to enjoy a beauty tool that was historically believed to be exclusively available to empresses and elites.
"We want our clients to feel beautiful by using the same beauty secrets that empresses used centuries ago. The [Chi] Himalayan Jade Roller is super easy to use and it's a really good investment since they can buy one and use it for a very long time," Krasr's Beauty Spokesperson said.
"We made the jade roller so women and men can have something to add to their beauty routines that's not a cream or a capsule. This roller is something they can use even on a busy day and still take their beauty routine to a whole new level," she added.
The The Chi Himalayan Anti-Aging Jade Roller is lightweight and portable. It also produces a massage-like sensation that feels relaxing on the skin. It works best when used at least twice a day, with or without beauty creams and oils.
The Chi Himalayan Anti-Aging Jade Roller is the latest addition to Krasr's roster of beauty products that aim to solve many different skin issues. It allows its user to reap the same beauty benefits they'd get from expensive beauty treatments.
Krasr is committed to helping their customers look and feel more confident in their own skin. They believe that the key to getting a smooth, youthful look is by taking care of the skin on a cellular level. The release of The Chi Himalayan Anti-Aging Jade Roller is just a part of their mission to make glowing skin a much easier feat to achieve for their clients. The Chi Himalayan Anti-Aging Jade Roller is available for purchase on Amazon.