Conffianz Announces New Board Member Albert Draaijer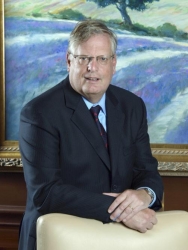 New York, NY, March 12, 2018 --(
PR.com
)-- The leading Latina focused skincare brand strengthens its executive leadership with the addition of former Galderma President and Head of Nestlé Skin Health Consumer Division.
Conffianz, the leading Latina-focused skincare line, today announced that Albert Draaijer will be joining its Board of Directors.
Mr. Draaijer is one of the world's most respected executives in the dermatology pharmaceutical industry. While at Nestlé Consumer Health, Mr. Draaijer was responsible for starting the consumer division, with household names such as Cetaphil and Proactiv, the latter being acquired by Nestlé after his leadership of the M&A activity and later serving as a managing board member. Prior to Nestle, Albert led markets and global business units for Galderma, SA, where he was responsible for expanding pharmaceutical brands into international markets, growing total revenues from $400 million to $1.5 billion during his tenure.
"Having managed some of the leading pharmaceutical and consumer skincare brands as well as leading the M&A strategy for Nestlé Skin Health, I immediately recognized in Conffianz the hallmarks of a promising, up-and-coming beauty company with effective, world-class products and a strong positioning within its target market. Conffianz's partnership with Univision, the leading media company serving Hispanic America, and the brand's distribution in Walmart as well as owned and operated, signal it's ready to be scaled into a much larger business by accelerating product development, growing its distribution network and implementing an effective and world-class marketing program. I am excited to contribute resources and my cumulative professional experience to help develop growth strategies for Conffianz," stated Draaijer.
"We are thrilled to welcome Albert to our board of directors," said Peter P. Snitzer Jr, CEO of Conffianz. Our goal is to empower Latinas and help restore their glow by providing effective and trusted skincare solutions for common problems including melasma (dark spots). I am confident that by tapping into Albert's vast experience in market expansion and strategic planning in consumer skincare brands, we will accelerate the growth of our direct to consumer, wholly owned and retail businesses. In short... Albert Draaijer is one of the most effective executives in Dermatology and we are honored to have him join our team."
About Conffianz: The brand's name itself is derived from the Spanish words confianza and confidente, echoing the company's goal of giving women the confidence they need to face the world every day. The Conffianz line of medical-grade products infused with natural ingredients provides real results, giving women the extra boost of confidence they need to live their best life every day. Conffianz proudly donates a portion of all sales back to the Hispanic Community through its Inexplicablemente Bella Scholarship.
For more information please visit www.conffianz.com or email Sarah Vander Wal, VP of Marketing, press@conffianz.com
www.facebook.com/conffianz and http://instagram.com/conffianz
Where to get it: www.conffianz.com & select Walmart Stores
Contact
Conffianz
Sarah Vander Wal
(703) 766-4661
www.conffianz.com

Contact