Di'Amore Fine Jewelers Selected as Newest Member of the Preferred Jewelers International™ Exclusive, Nationwide Network
Waco, Texas-based Jewelry Retailer now offers its customers "Experiences that last a Lifetime™"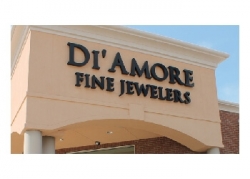 Waco, TX, March 13, 2018 --(
PR.com
)-- The evolution of Di'Amore Fine Jewelers over the years is an incredible testament to solid values, hard work and trusted relationships. Di'Amore Fine Jewelers, previously known for more than 24 years as Jay Jewelers, and located in the Richland Mall, has grown from the mall-based location of 1100 square feet, into its gorgeous 4500 square foot stand-alone building of today.
As one of the most trusted jewelers in the Waco region, Di'Amore Fine Jewelers prides itself on being a multi-brand jewelry retailer committed to make every customer "feel at home," by providing personalized service and a wide selection of merchandise ranging from classic to cutting edge jewelry designs. Generations of families in the Waco, Texas area have chosen Di'Amore Fine Jewelers as their trusted jeweler when shopping for diamonds, fine jewelry, watches, treasured gifts, custom made styles and expert jewelry repairs.
The Di'Amore Fine Jewelers mission has always been a tradition of trust, high ethical standards, knowledge of its jewelry products and services, fair pricing and value to its customers. Now, as a Preferred Jewelers International™ member offering the Free Preferred Lifetime Nationwide Warranty, they can also add "Experiences that last a Lifetime™".
Being selected as one of the newest members of Preferred Jewelers International™, Di'Amore Fine Jewelers has joined an elite, international network of independent retail jewelers who are dedicated to providing excellence in service, support and value. As part of that network, Di'Amore Fine Jewelers is now offering the Preferred Lifetime Nationwide Warranty, which is included, when applicable, in customer's purchases at no additional charge.
The Preferred Warranty fully guarantees workmanship and materials on customer purchases. If service is required, the guest would simply go to a Preferred Jeweler and it will be repaired and serviced at no charge. The Lifetime Nationwide Warranty program also includes the replacement of any missing diamonds up to 0.20 ctw.
With the addition of the Free Preferred Lifetime Nationwide Warranty, customers of Di'Amore Fine Jewelers have the benefit of nationwide protection, assurance and trust for all their fine jewelry purchases.
For more information about Di'Amore Fine Jewelers, and the Preferred Lifetime Nationwide Warranty Program, please call (254) 776-9877 or visit the Di'Amore Fine Jewelers website at:
http://www.diamorefinejewelers.com/
Contact
Preferred Jewelers International
Preferred Headquarters
888-998-8874
PreferredJewelersInternational.com

Contact