AloeVeritas Announces the Launch of AloeMD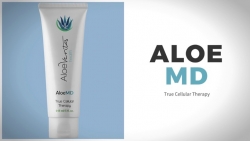 Dallas, TX, March 14, 2018 --(
PR.com
)-- AloeVeritas launched a new patented 100% natural arthritis and joint pain product that not only provides drug free and opioid free relief, but also boosts the body's own innate intelligence to repair itself. The official launch date for AloeMD was March 10, 2018.
AloeVeritas believes AloeMD will change the way we look at inflammation and how we alleviate not only the symptoms, but also the mechanisms that trigger them, naturally. With a combination of powerful active, pharmaceutical grade botanicals, and a unique smart absorption delivery system, AloeMD is positioned to provide a drug free, NSAID Free, opioid free alternative for millions of people who suffer from chronic pain. AloeMD's employs a patented, doctor formulated combination of natural botanicals that have clinically tested responses.
AloeVeritas introduced the newest addition to its pure Aloe-based 100% natural wellness skin care and health products at the official US launch on March 9th and 10th at the Gaylord, Texan, where the AloeMD was met with rave reviews and near instant testimonials after just one use by most attendees.
"AloeMD has far exceeded our expectations as a revolutionary alternative to the mainstream pain relief genre. Our mission, with AloeMD as with all of our signature products, is to make a difference in the world of business and wellness. We believe the body was designed to repair itself, and our products give it the chance to do just that, naturally, without toxic chemicals such as Opiods, Steroids, and NSAIDs," stated Christopher Hardy, Founder and CEO. "And, with pure, true Aloe Vera as its base ingredient to the proprietary formula, there is little to no chance of side effects or contraindications with regular use. You will be amazed by how you feel, or better yet, what you don't feel after an application. The proof is in the product."
AloeVeritas is a global skincare, health and wellness company that first launched in Europe and plans to be worldwide. All AloeVeritas products are certified natural and contain the therapeutic benefits of pure, natural aloe that promote a healthier you—inside and out. A complete suite of wellness skincare products is available online through a network of highly trained independent distributors at aloeveritas.com.
To learn more about AloeMD and AloeVeritas, log on to
www.aloeveritas.com
.
#jointhemovment
Jillian Corley, Vice President of Global Marketing:
AloeVeritas Americas, LLC
1900 McKinney Avenue
Suite 2311
Dallas, Texas 75201
(833-TRU-ALOE)
www.aloeveritas.com
Contact
AloeVeritas Americas, LLC
Jillian Corley
833-TRU-ALOE
www.aloeveritas.com

Contact