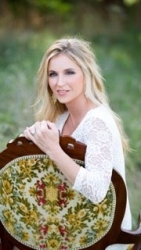 Jacksboro, TX, May 04, 2018 --(
PR.com
)-- Kerri A. Ledoux has been Honored as a Woman of Empowerment by P.O.W.E.R. (Professional Organization of Women of Excellence Recognized) for her outstanding contributions and achievements in the field of design.
About Kerri A. Ledoux
Kerri Ledoux is a designer for her business, Heart Insouls, LLC, located in Jacksboro, Texas. She designs insoles for shoes made of genuine goatskin imprinted with scripture designed to serve as a daily reminder of God's promises. In 2017, faced with the decision to return to her position in Business Development in the oil industry or pursue a new career, Kerri was inspired to start a new business. With support and encouragement from mentors, family and friends – and daily guidance from God through His Word – Kerri proceeded, in faith, one step at a time until Heart InSouls, LLC was birthed. More important than launching her company, however, Kerri provides a platform on the Heart InSouls website for others to share their personal stories of standing on the promises of God. Heart InSouls are for the Believer who knows the power of God's word and wants to literally stand on His truths. Each Insole is prayed over that the customer will follow the path that God has laid out before them.
The vision for Heart InSouls is to empower, connect, and support people across the globe with a comforting reminder of God's promises. Through relentless faith, commitment, and love— Heart InSouls' mission is to design footwear products that supports their customers with a foundation of comfort and stability, as does the word of God. Heart InSouls enables customers to stand firm on their convictions, one step at a time.
Kerri Ledoux is a wife, mother, speaker, author and entrepreneur committed to transforming the tragedies of her life into a message of hope and healing. After the loss of her son, Johnny, in 2016, Kerri founded "LiveLikeJohnny," a nonprofit 501(c)(3) dedicated to supporting at-risk, underserved and often overlooked children who have the potential for personal and professional success. Her faith-based approach is designed to ignite the passion for living an extraordinary life... just like Johnny.
On November 26, 2016, Johnny Callan or "John" as his family referred to him had been taken from this earth in a single car accident. He was on his way to a stock show to do two of the things he loved most, show goats and represent his local FFA chapter, but God had other plans for Johnny that morning and he never reached his earthly destination. Shortly after his death, his family learned he had been accepted to Texas A&M University. The Organization offers the LiveLikeJohnny Foundation Scholarship which is a one-time scholarship to a graduating senior which is paid directly to the college or university where the student will attend full time. They hold galas and events to encourage sponsors and obtain donations. As Heart InSouls desires to be more than another profit-driven contributor to the massive economy of consumer footwear, a percentage of all proceeds are donated to the LiveLikeJohnny Organization.
Kerri states, "My son was humble, kind and full of love. He was a servant leader who lived his personal brand. He was an example – he lived to serve others. He was faith in action."
Though small in stature, through God's strength and her unique perspective, Kerri brings a powerful voice to the message of hope and healing. She is passionate about sharing her story with audiences around the world in order to demonstrate God's ability to transform people's pain into passion and work all things together for His good as He promised He would (Romans 8:28).
For further information, contact www.heartinsouls.com and www.livelikejohnny.com.
About P.O.W.E.R. (Professional Organization of Women of Excellence Recognized)
P.O.W.E.R.'s mission is to provide a powerful network of women who will mentor, inspire and empower each other to be the best they can be. Through our valuable services, and collaborating with like-minded professionals, our members can gain the recognition and exposure to achieve their career goals.