R•Kane Nutritionals Announces Rebrand of Meal Replacement Solutions
R•Kane Nutritionals announces the official rebrand and launch of their high protein meal replacement product lines: Pro•Cal and Z•Pro25™ Pudding/Shake Mixes and TinyMeal™ Nutritional Bars. R•Kane Nutritionals has been servicing the weight loss and bariatric communities for over 40 years in both clinical and medical settings.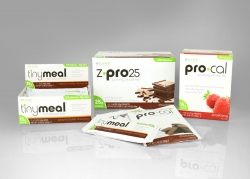 Burlington, NJ, March 22, 2018 --(
PR.com
)-- Late in 2016, R•Kane Nutritionals was acquired by American Nutritional Laboratories, and since then they have been working towards this rebrand by performing a full review of the market, their positioning and products. The primary focus for the rebrand would include:
1. Freshening up the brand, logo and colors
2. Focus products on all natural flavors
3. Ease of access for medical providers
With Pro•Cal and Z•Pro25™ offered in four flavors, the R•Kane Nutritionals' facelift includes a new, clean, slimmed-down look with a soft, satin finished packaging. The color scheme is fresh and invites the customer to try the products. The brand is clearly represented with the principal display panel detailing exactly what the product is and what consumers will find inside. Since R•Kane Nutritionals has always been committed to providing easy-to-use products, this was imperative as the rebrand gained momentum.
R•Kane Nutritionals
focuses on specific meal replacement products to be able to develop the best quality and best tasting products for obesity treatment and general weight loss. They are dedicated to help their weight loss patients to enjoy what they eat and feel good about it. Pro•Cal and TinyMeal lines offer 15g of protein and Z•Pro25 offers 25g of protein. R•Kane Nutritionals' meal replacement products are known to be easy to mix, prepare and have superior taste. Therefore, taking on the redevelopment using all natural flavors was a huge undertaking, but necessary given the current food industry trends. Throughout the redevelopment, their team of food scientists and product developers took keen effort to carefully screen flavors for overall flavor, ease of mix and how the flavors interacted with their protein base. With each sensory test, the naturally flavored products consistently outperformed those with artificial flavors.
R•Kane Nutritionals has also made it even easier for medical providers to order and keep their offices stocked with the products their patients crave. They've added an online shopping option where all providers can see current pricing options, order 24/7, see their order history and track them easily. They have added these extra conveniences to enhance their customers experience partnering with R•Kane Nutritionals as a weight loss solution company even better.
About R-Kane Nutritionals:
Since 1977, R-Kane Nutritionals has been consistently providing top of the line weight loss products for obesity treatment and dietary supplements for physicians and leading world medical facilities. They develop and manufacture meal replacement and weight loss products sold throughout the medical community.
Contact
R-Kane Nutritionals
Naz Aksu
609-614-6076
www.rkanenutritionals.com

Contact