Christian Purdie Photography Snaps One Millionth Photo and Implements Their New "Share as We Shoot" Program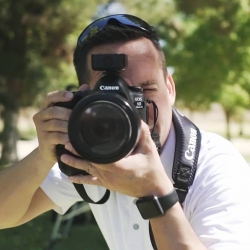 Las Vegas, NV, March 27, 2018 --(
PR.com
)--
Las Vegas photographer
Christian Purdie celebrates one million photos as he continues to innovate within the field of photography. Blending technical skill with creativity, the Las Vegas based company specializes in a myriad of genres--from events and portraits to headshots. This significant milestone denotes years of hard work that is attributable to Purdie's passion and keen attitude for his craft. Their latest development, the Share as We Shoot program, is a crucial asset for any
Las Vegas event photographer
.
Christian Purdie, founder and lead
photographer
of Christian Purdie Photography, began his work 20 years ago and has recently hit the one million mark in his expansive portfolio "I took my first professional shot in 1998 while I was working as a bank teller near UNLV," Purdie said, "That's how you get good at something, you do it a million times."
With a staff that assists on photoshoots and the editing process, Christian Purdie Photography has taken photographs of Sir Richard Branson, Carlos Santana, George Lopez, Steve Wynn, Michael Dell and other high profile cases.Their inventive Share as We Shoot program transforms the nature of professional photography, as it provides clients with nearly instant access to their photographs.
"As someone who shoots a lot of events, it's important that I show my customers a rapid turnaround," Purdie said, "With Share as We Shoot, we can take professional photos and share them with the speed of a smartphone."
Christian Purdie Photography is in no way limited to event photography though. As a
Las Vegas portrait photographer
, Purdie understands that a picture is worth a thousand words, and that the right picture tells your story. With an extensive knowledge of the Las Vegas valley, Purdie has chosen unique settings to shoot the proper portrait, which has aided in the substantial feat of reaching one million photos.
Contact
Christian Purdie Photography
Christian Purdie
702-530-4384
www.christianpurdie.com

Contact