New Multimedia Digital Photo Book Shows Venice in a Whole New Light – "Reflections of Venice–Art and Beauty in the Water" Available Now on iBooks
New multimedia fine art photography digital book, "Reflections of Venice – Art and Beauty in the Water," available now in 51 iBooks Stores worldwide. "Reflections of Venice," by writer, photographer, videographer and designer, David C Phillips, is a very different view of Venice, and will open the eyes of any visitor, past or future, to aspects of the city not usually observed: a beautiful, rich media book and a great contribution to the literature on Venice, Italy, to photography and the arts.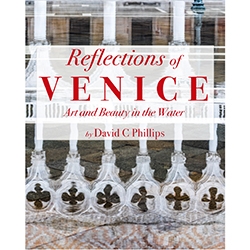 Seattle, WA, March 29, 2018 --(
PR.com
)-- New book from experienced and widely published travel photographer, writer and videographer David C Phillips turns the beautiful city of Venice, Italy upside down, and shows the art and beauty that is Venice in the water through reflections. David C Phillips has found a new angle to portray this extraordinary and unique city that has been painted and photographed so very extensively over the centuries and is being photographed so actively every day. The images in "Reflections of Venice," taken collectively, represent a work of art about a city which is brim full with art and beauty and is itself a work of art. The fine art photo book goes well beyond travel photography and travel books about destinations, and enters the world of art, realistic, impressionistic, surreal and abstract.
"
Reflections of Venice – Art and Beauty in the Water
" is a multimedia digital book made for iBooks. The book contains videos, interactive maps, a complete and easily accessible glossary, several slideshows and an audio clip. The photos look stunning on an iPad or a Mac, especially on a retina display. iBooks is a perfect platform for enjoying this book fully.
Reflections of Venice
-contains fresh, stunning images of aspects of the City of Venice which have until now mostly gone unnoticed
-provides visitors to Venice with views of the city that invite exploration and discovery
-includes very useful maps and references which will make a visit to Venice much more worthwhile and enjoyable
-is an inspiration to photographers who are looking to shoot something different and not just turn out the same old photographs we've all seen so many times
-will inspire artists to take a new look at painting, particularly when the subject includes water
-will create a strong desire in readers to visit or revisit Venice with a different viewpoint and discover aspects of the city which are not normally seen.
"The culmination of a six-year project, 'Reflections of Venice' began with a firm resolve to portray the beautiful but much painted and photographed city of Venice in a fresh and unique way," Phillips says. "It seems only fitting that the city be seen in and through the water that she was built on and out of which she rises."
"Reflections of Venice" is available now for purchase on iBooks in 51 iBooks Stores worldwide. A free sample can be viewed prior to purchase. The cost of the book is $9.99 or the equivalent in local currency. Requires an iPad or a Mac running iBooks plus an Apple ID.
About The Author/Photographer
David C Phillips (davidcphillps.com) is a widely published author and photographer with a passion for travel, photographing and writing about people and places in a way that captures their essence and reveals their secret beauty. His fresh and striking images have appeared internationally in numerous books, magazines, calendars and home decor. Phillips conceived Reflections of Venice, took and edited thousands of photographs, captured and edited the videos, wrote and designed the book himself to make sure it met his requirements and standards, and communicated the intended message perfectly.
About The Book
Title: Reflections of Venice – Art and Beauty in the Water
Author/Photographer/Videographer/Designer: David C Phillips
Publisher: Available only on iBooks
Price: Multimedia, digital, made for iBooks version, $9.99 (free sample for download)
Page count: 200 pages
Number of illustrations: 260 full color photos
Multimedia: 9 videos, 2 slideshows, gallery of paintings, extensive glossary, interactive 3D map
Formats: Multimedia Digital, made for iBooks
ISBN: 9780988529021
Availability: Available now on iBooks in 51 iBooks Stores worldwide.
For a review copy of the book, more information, high resolution book cover art, sample photos and video or author/photographer head shot, a video trailer, or to arrange interviews please contact: David Phillips, 206-604-3747, david@davidcphillips.com
Useful links:
Author's website: davidcphillips.com
Reflections of Venice web page: http://davidcphillips.com/html/22224-2/reflections-of-venice/
Video book introduction: https://vimeo.com/258421685
Contact
David C Phillips
David Phillips
206-604-3747
davidcphillips.com

Contact