Military-Transition.org and Veterati Announce a Partnership to Improve Veteran Mentoring and Military Transition Resources
Two veteran organizations announce a partnership to expand mentoring services to the military community and enhance ongoing research about the challenges associated with military-to-civilian reintegration and employment.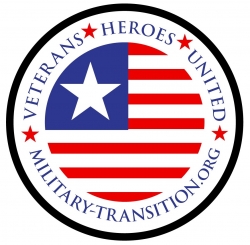 Cincinnati, OH, March 29, 2018 --(
PR.com
)-- A local veteran organization, Military-Transition.org, announced a partnership with Veterati, an online site that connects service members and spouses with career mentors. The agreement enables both organizations to expand mentoring services to the military community and provides greater awareness of veteran led research about the challenges associated with military-to-civilian reintegration and employment.
Military-Transition.org (
www.military-transition.org
) helps service members and military families across the globe using data and lessons learned which are gathered through online surveys and social media. This information is analyzed and used to develop insights and solutions which address reintegration and employment related challenges. According to their research, almost half of veterans surveyed indicate their transition into the civilian workforce was more difficult than expected and more than half indicate their transition took more time than expected. Their web-based solution delivers interactive responses based upon user interests and individual profiles (military branch, rank, years of service, education, specialty, age and gender). This approach empowers service members to better plan and prepare for their return to civilian life and secure meaningful employment. In addition to providing information and lessons from the veteran community, their website hosts one of the largest arrays of resources to inform decisions and guide service members and spouses through the civilian employment process. "Successful transitions apply the lessons identified through our research," said Brian Niswander, the founder of Military-Transition.org. "Our partnership with Veterati is critical since mentoring is a key enabler in the military-to-civilian transition process. When service members and their families visit our site, they not only learn these lessons but also gain access to resources such as Veterati."
Veterati (
www.veterati.com
) is the most advanced on-demand mentoring software in the market. Leveraging algorithmic matching, automated scheduling, best-in-class practices deployed via text message and automated phone calls to connect mentees to mentors for free. Features include just-in-time text messages to capture reviews from each meeting and longer-term community success metrics, the user experience is seamless from signup to mentor-call complete. Veterati's initial idea is to activate 100 million Americans to mentor 1.5 million transitioning service members and 5.5 million underemployed military spouses into their dream jobs.
"We wanted to create a unique platform experience that would accelerate how our military community builds their social networks and find career opportunities through the power of conversations," said Dan Rau, the co-founder and Chief Operating Officer of Veterati.
Veterati will offer a portal from the Military-Transition.org website, making it simple for veterans and their families to connect with mentors, supporters and industry experts. The site uses questionnaire data to match veterans seeking advice with potential mentors and advisors, after which it facilitates secure phone calls.
There are more than 1.5 million Americans in uniform and all will return to civilian life at the end their service, whether that's 6-months or 25-years from now. "The more we learn from mentoring and serving these individuals will help future generations, along with strengthening our commitment to the military," says Niswander.
Rau expects the partnership to raise visibility for both organizations, leading to better solutions for the military community. Rau and Niswander encourage veterans and supporters to give back through mentoring and by participating in an online survey. To sign up as a mentor or mentee, please visit ww.veterati.com. To participate in a transition or employment survey, please visit www.military-transition.org/participate.
For more information about the partnership, please contact:
Brian Niswander - Founder/President at Military-Transition.org: brian@military-transition.org 513-207-6059
Evan Guzman - Head of Marketing & Strategic Partnerships at Veterati: evan@veterati.com 908-801-0569
Contact
Military-Transition.org
Brian Niswander
513 207 6059
https://www.military-transition.org

Contact