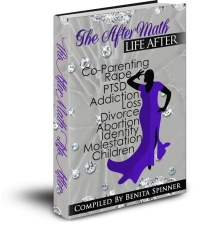 Washington, DC, March 30, 2018 --(
PR.com
)-- "The AfterMath Life After" is chocked full of personal tell-all stories that will captivate you, even if you have never had a direct experience with the situations presented. There is a colorful backstory that led to each woman's "aftermath," facing issues related to abortion, loss, identity crisis, divorce, Post-Traumatic Stress Disorder, co-parenting, rape, molestation, young motherhood, and addiction.
In life, we all go through trials and tribulations. These raw, jaw-dropping stories of perseverance and strength are sure to take readers on an emotional journey. However, by the end, you will embrace your own strength, courage, and better understanding of not only your own personal battles but also those of the "next woman."
Enter the personal space of 10 women - Benita Spinner, Kimora Lee, Latoyia Kirton, Marcella Moore, Mechel Glass, Mishia Bee, Nakia Walters, Natanya Braswell, Shavonne Bowman, and Tatiauna Morgan - who are brave enough to boldly tell their truths and encourage you to face "The AfterMath" of your situations. "Their storms no longer define them, and we pray you will be emboldened to no longer have the storms of life define you." - Pearly Gates Publishing, publisher of "The AfterMath Life After."
The scheduled release date is April 26, 2018.
More about Complier Benita Spinner
Mrs. Benita Spinner is a best-selling author, CEO, and Founder of BMS Talent & Entertainment (BMS). Clients, under BMS management, have landed roles on numerous television shows and commercials to include: Sesame Street, Law & Order SUV, Homeland, Purell, Expedia, Square, Honey Bunches of Oats, and Yahoo's Kids Take On.
Mrs. Spinner often uses her platform, as an ambassador, to speak out against domestic violence and sexual assault. She will be starring in her first stage play called "Out of Time," which addresses the topic of domestic violence. She has been the keynote speaker at events in New York and other cities across the U.S. discussing how to heal after physical or emotional trauma.
While focused on healing, BMS launched an apparel division that focuses on delivering positive messages for people to wear. In addition, Benita launched the "BMSTE Radio Show" which focuses on topics such as: the arts, business, networking, and all things entertainment.