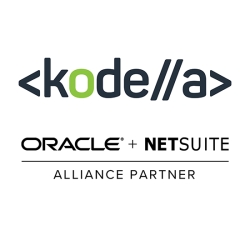 Newport Beach, CA, April 02, 2018 --(
PR.com
)-- Kodella LLC, a leading and experienced NetSuite development firm, announced today that it has joined the NetSuite Alliance Partner Program. By partnering with Oracle NetSuite, Kodella is able to help manufacturers and warehouse distributors across Southern California to scale, improve workflows, and maximize return on investment by utilizing NetSuite's leading cloud-based financials/ERP, HR, Professional Services Automation (PSA) and omnichannel commerce software suite.
Kodella partners with businesses and employs a simple-yet-unique approach that is built on over 20 years of experience. Working alongside its clients, Kodella offers the latest NetSuite technology solutions while providing the expertise to customize based on their business needs. Kodella stands apart from its competition by offering a robust portfolio of resources to local manufacturers and warehouse distributors across Southern California.
"The opportunity to work closer with NetSuite to support our customers' growth and success is one we're very excited about," said Ryan Albretsen, Kodella's CCO (Chief Customer Officer). "We're pairing leading cloud ERP with Kodella's high-end, talented resources to help our clients drive maximum value."
"We're excited to partner with Kodella as we focus our combined energies on serving manufacturers and warehouse distributors in Southern California," said Craig West, VP of Alliances & Channels, Oracle NetSuite. "Kodella is distinguished among manufacturers and warehouse distributors as being a leader in ERP cloud consulting and has the extensive knowledge required to provide superior service."
About Oracle NetSuite
Oracle NetSuite pioneered the Cloud Computing revolution in 1998, establishing the world's first company dedicated to delivering business applications over the internet. Today, it provides a suite of cloud-based financials/Enterprise Resource Planning (ERP), HR and omnichannel commerce software that runs the business of companies in more than 100 countries. For more information, please visit
http://www.netsuite.com
.
Follow NetSuite's
Cloud blog
,
Facebook
page and
@NetSuite
Twitter handle for real-time updates.
About NetSuite Alliance Program
The NetSuite Alliance Partner program provides business transformation consulting services as well as integration and implementation services that help customers get even more value from their NetSuite software. Alliance Partners are experts in their field and have a deep and unique understanding of NetSuite solutions. NetSuite provides Alliance Partners with a robust set of resources, certified training, and tools, enabling them to develop expertise around specific business functions, product areas, and industries so they can efficiently assist customers, differentiate their practices, and grow their business. For more information, visit:
http://www.netsuite.com/portal/partners/alliance-partner-program.shtml
.
Trademarks
Oracle and Java are registered trademarks of Oracle and/or its affiliates. Other names may be trademarks of their respective owners.
About Kodella
Kodella, based in Newport Beach, CA, is one of the most experienced NetSuite development firms in the Southern California area. We are trusted advisors for selection, implementation, evaluation and support of our clients NetSuite investment. We have a dedicated global network, with which we are able to provide NetSuite resources no matter where you are. Kodella's NetSuite programming consultants can support your business on ground or remotely; we have the necessary expertise to handle all of your NetSuite development needs. Our experienced team includes NetSuite ERP Consultants, NetSuite Administrators, and NetSuite Developers who are dedicated to assisting you as we create a NetSuite solution designed to your precise business requirements.
For more information, visit:
https://www.kodella.com
.