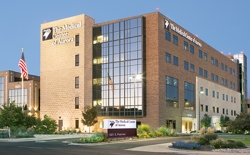 Aurora, CO, April 09, 2018 --(
PR.com
)-- HCA/HealthONE's The Medical Center of Aurora (TMCA) announced today that HCA will provide funding to add 50 new beds at their North Campus Behavioral Health and Wellness Center. This includes a focus on pediatric needs with their affiliation through Rocky Mountain Hospital for Children. The investment will take the Center's total bed count to 128 and is in response to meeting the increased mental health needs of the community. The additional beds will provide treatment options in a time where the need significantly outweighs the available resources.
In the United States, 18 percent of adults have a mental health condition and in Colorado, 19.5 percent of adults report having a mental illness. In a 2018 report released by Mental Health America, Colorado ranks 43rd nationally in terms of the overall rate of residents with mental illness with no access to behavioral healthcare. The average wait time to see a psychiatrist can be six to eight weeks.
"We are very grateful to HCA and HealthONE for investing in our community. At The Medical Center of Aurora, we pride ourselves with having the ability to offer high quality care and a variety of services for the Aurora and Denver communities," said Dan Miller, President and CEO at The Medical Center of Aurora and Spalding Rehabilitation Hospital. "We have heard from our community that there is a dire need for expanded mental health services, and we're honored to have the capability meet their request by adding more beds and hiring additional experienced professionals."
Part of the focus includes expanding the senior care unit, which stems from the aging Colorado population. The state has the third fastest growing senior population in the country, but lacks the resources to meet the mental health needs of this growing group. Most of these people will seek care for mental health services at an emergency room.
Dr. Alfredo Rivera, Medical Director of Behavioral Health Services Line/Medical Director Geriatric Services, has watched the senior mental health population double over the past two years at the Behavioral Health and Wellness Center.
"There is an increased need for mental health services in the City of Aurora and surrounding areas," said Rivera. "We're very excited that we can expand our services and help provide behavioral health treatment to the increasing geriatric population."
The Medical Center of Aurora will also expand their children and adolescent units and will now accept children as young as age four. They currently offer services to adolescents over age 12 and are part of the Rocky Mountain Hospital for Children system of pediatric care that provides access to 300 pediatric specialists. Colorado ranks near the bottom for providing access to mental health services for youth. TMCA also offer programs for adults and senior patients.
"Colorado, like most states, has a shortage of pediatric mental health services," said Dr. Damon DeLeon, Medical Director for Adolescent Services. "The opening of our 20-bed adolescent inpatient unit two years ago, and then the adolescent partial hospitalization and intensive outpatient programs, has certainly made an impact, but greater services are needed. I am proud of our commitment to meeting the needs of the community by expanding into children's mental health and furthering the full spectrum of care with the addition of more inpatient beds and child and adolescent partial and intensive satellite programs." The Rocky Mountain Hospital for Children system of pediatric care spans the entire Rocky Mountain Region, with the flagship hospital located at 20th and High Streets in Denver.
Statistics show that 20 to 25 percent of Coloradoans have a mental health condition and roughly half of those people get treatment or have expressed an unmet need for behavioral health services including lack of insurance, providers, appropriate programming and funds to pay for services.
"As Board Chair, I am honored to be part of the HCA/HealthONE team that is making this investment in the community," said John Hughes, Chairman of the HealthONE Board of Trustees. "The need for mental health providers far exceeds the available resources and our investment in facilities and highly trained professionals aims to narrow that gap, as well as demonstrate the commitment TMCA has to the community."
Since 2012, HCA/HealthONE The Medical Center of Aurora has invested over $23 million in behavioral healthcare services. Construction at the Behavioral Health and Wellness Center will begin in late spring and the children's inpatient services will be available within one to two years.
About The Medical Center of Aurora
The Medical Center of Aurora, the first community hospital in the Denver Metro area to receive two-time Magnet designation for nursing excellence by the American Nurses Credentialing Center (ANCC), is a 346-bed acute care hospital located in Aurora, Colorado. The Medical Center of Aurora is comprised of six campuses in Aurora and Centennial, Colo., including the South Campus, located at Interstate 225 and Mississippi, the North Campus Behavioral Health and Wellness Center, Centennial Medical Plaza, Saddle Rock ER, Spalding Rehabilitation Hospital, Spalding Rehabilitation at P/SL, and a medical office building at Green Valley Ranch. The South Campus facility is a Level II Trauma Center with Primary Stroke Certification and Chest Pain Center accreditation, and has an affiliation with Rocky Mountain Hospital for Children. The Medical Center of Aurora received 'A' grades from The Leapfrog Group (Fall 2015, Fall 2016, Spring 2017, Fall 2017), was Colorado's only hospital to receive the Leapfrog Top General Hospital designation two years in a row (2016, 2017), earned the prestigious five-star rating on CMS Hospital Compare, and was recognized as the #4 hospital in the Denver metro area and the #4 hospital in Colorado by U.S. News & World Report (2014-2015, 2017-2018). The Medical Center of Aurora and its affiliated campuses are part of the HealthONE System. Learn more at AuroraMed.com