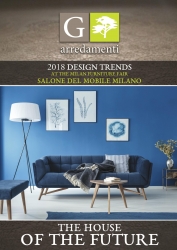 Falconara Marittima, Ancona, Italy, April 11, 2018 --(
PR.com
)-- Gasparri Arredamenti, a well-known Italian company that produces luxurious furniture exclusively custom-made and tailored, unveils a preview of
the new 2018 design trends
, directly from the Milan Furniture Fair Salone del Mobile.Milano in a guide that can be downloaded from the site: https://www.gasparriarredamenti.com/2018-design-trends/
Paolo Gasparri, CEO, comments: "As previewed at the international furniture fair in Milan, we can see that the trends in the design world for 2018 are increasingly centered around a design and a home that is tailor-made, highly personalized, with warmer colors in the furnishings, a touch of retro, ergonomics and comfort that converge, a few luxurious details that stand out, the return of velvet (especially on upholstered furniture), as well as the importance of green in the home, such as plants that not only beautify a home, but also bring us closer to nature and make us more aware of it."
"Today, more than ever, wood has a central presence among a home's natural materials, and here we have various types of solid wood in numerous shades, and all of high quality. Close attention is given to sustainable architecture, as is the case with the 'Vertical Forest' by Boeri Studio, as well as the use of high-quality raw materials, integrated with the most advanced technology and the utmost respect for nature: our present and future."
Paolo Gasparri concludes: "We study every piece of furniture according to the personality and purpose of the homeowner, working with architects, designers, and professionals, along with requests from end customers. We will be happy to meet architects, designers, and private clients at the Milan Design Week, to be held from the 17th to the 22nd of April in Milan, or at our headquarters in Falconara Marittima, or any part of the world where we can develop ambitious furnishings and projects together."
Gasparri Arredamenti is an Italian company that creates and manufactures high-quality furniture tailored for architects, operators in the sector, as well as individuals in Italy, Russia, and around the world. The company does not provide predefined models, but instead creates furniture from scratch according to the needs of each customer, designing shapes and colors directly from the customer's own ideas.
Gasparri Arredamenti
https://www.gasparriarredamenti.com/
info@gasparriarredamenti.com
+4 420 3868 4482 - +39 071 9162051